Lancashire Wildlife Trust HQ
Situated within the beautiful surroundings of the 600 acre Cuerden Valley Park, The Barn was opened in 2003 by Professor David Bellamy, the building was granted award winning Eco-Centre status in 2006.
Facilities
The Barn offers a range of quality facilities including:
Classroom up to 40 delegates
Board room up to 16 delegates
Flexible room layouts
Full and half day rates
Ground floor location with full disabled access and amenities
Catering and refreshments
Equipment hire
Located next to 3 major motorway links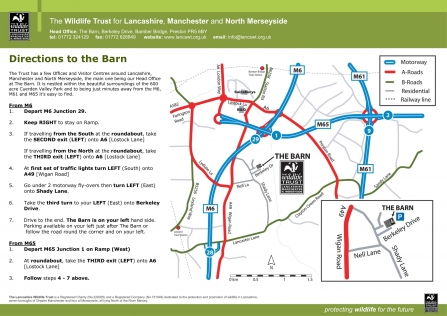 Situated within the beautiful surroundings of the 600 acre Cuerden Valley Park, the Barn is located just minutes away from the M6 (junction 29), M61 (junction 9) and M65 (junction 1). The car park next to the Barn is for staff only.
There is ample parking in the CVP car park (£1 daily per car). This venue offers a unique countryside location within minutes from major motorways, so you really can have the best of both worlds.
Fostering Sustainable Living
The Barn was built on the principles of sustainable living, using the traditional style of an old Lancashire Barn. The build included the use of reclaimed bricks and slates, recycled and re-used wood flooring, carpet tiles and office equipment.
Our heating system is partly comprised of solar panels that collect the sun's heat and transfer it to a water tank to provide hot water during the summer months. During periods of insufficient sunlight the system switches over to our biomass (woodchip) boiler, which heats the building in winter.
The maintenance of the venue is also sustainable, with a wood fuel heating system which provides a productive outlet for waste wood generated during ongoing woodland management in Cuerden Valley Park (CVP) and helps the park rangers combat storage problems because any trees lost during storm damage, clearance or other means can be converted to fuel. By obtaining our wood from CVP we're eliminating transportation costs and the increased fuel emissions that transportation entails. Even the wood itself is theoretically zero carbon rated - it's a sustainable source.
The Barn is a leading example of environmentally sensitive building design and is highly effective in helping the Trust to raise awareness of sustainability throughout the community and amongst other organisations in Lancashire.