Are you looking for an adventurous outdoor party? At The Hive at Moss Bank Park we're offering 'Wild' birthday parties!
There are four themes to choose from – Pirates!, Dinosaurs, Magic & Fairies and Tribal Survival - each with their own fun activities and games.
Whichever party your child chooses for their big day, we'll make sure that their outdoor adventures will send them home with big smiles, muddy hands and glowing cheeks!
If you'd like to learn more about the amazing day you can have with your child, please see below.
"I must say it was one of the best parties I've been to! The children were all loving the activities and all the parents have been in touch with me to say how their kids were all buzzing about it"
Important Information
Prices
Our birthday parties cost £200. That's it. Easy, right?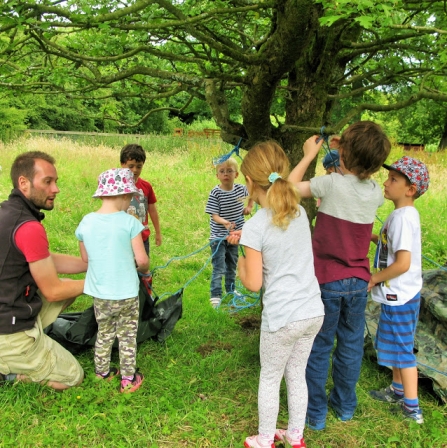 Our parties include
1 ½ hours of activity time and ½ hour for eating your party food.
A party host to lead the activities.
Costume accessories (where possible and applicable) for use on the day.
Use of covered outdoor area for eating (indoor area is available if the weather is very poor).
Indoor space available for greeting guests and storing belongings.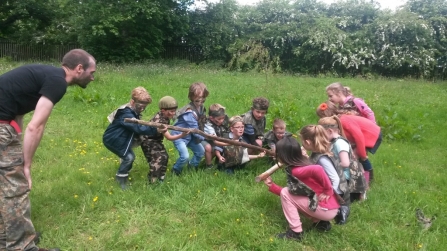 What to bring
Your party food, birthday cake and accessories. As we do not cater the parties ourselves, you are free to bring your choice of food (please get in touch if you have any questions regarding facilities).
Appropriate outdoor clothing and protection for the conditions. We recommend full length trousers.
Waterproof outdoor shoes or wellingtons are very strongly recommended.
Completed Parental Consent forms for all children attending on the day (see 'important documents' above).
Parties are suitable for children between the ages of 4 and 12 years old.

An appropriate ratio of adults to children will be required, determined by the age of the children (see Terms and Conditions on the booking form).

Parties are available at weekends year round.
"What a fantastic tribal survival party today for Toby's 7th birthday. Despite the weather the boys had a great time and said it was 'the best party ever!"
How to book a WILD party
To make a booking enquiry please fill in the contact form below. You can also contact us on 01204 663 754.