Bolton ERC - Meeting Venue
Environmental Resource Centre
The Environmental Resource Centre is a landmark sustainable building located just 2 miles from Bolton town centre. Situated on the edge of the beautiful Seven Acres Local Nature Reserve, the building offers its services to both businesses and community groups, providing a vital resource for all.
Imagine sitting in a meeting room with a wall of windows overlooking a nature reserve! Our multi function room hosts up to 50 delegates and is the perfect location for your meeting, workshop or class. With an abundance of natural light, you will stay focused, comfortable and productive throughout the whole day.
Facilities
Meeting room for up to 14 delegates
Resource Room for up to 20 delegates
Reception/exhibition area up to 30 delegates
Full and Half day rates
Disabled access and amenities
Catering/Refreshments
Equipment Hire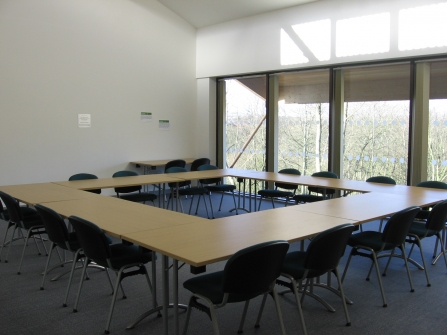 The Environmental Resource Centre is easily accessible from major motorways including the M60, M61 and M62. Free parking is available but is limited and so larger parties should confirm this at the point of booking. The centre has disabled access.
Contact 
Feel free to contact our conference co-ordinator, Sandra Spencer
T: 01204 663 754
E: sspencer@lancswt.org.uk
499/511 Bury Road,
Bolton,
Greater Manchester
BL2 6DH
About the ERC
If room hire is not what you're looking for this time, maybe we can tempt you with one or more of our other services, these include:
Education services

The location of the Environment Resource Centre makes it the perfect setting for children to explore the natural world. Students can step out of the building and have access to pond dipping, grasslands and woodland, all with disabled access. 
Volunteering

Why not volunteer for the Trust here at the ERC? We have a host of projects and activities which require the support of volunteers. To find out more click here. 
Community Based Projects

Projects, activities and events aimed at getting the local community involved with wildlife and the Trust's work are central to the ERC. Check out the ERC Facebook page to keep up to date with all the latest news.
Seven Acres Nature Reserve

The glorious Seven Acres nature reserve backs onto the ERC. Rich with wildlife, it is the venue for many of our events and activities. Visit this link to learn more about what's on at Seven Acres and how you can get involved.
Birthday Parties

You can now also book your children's birthday party here at the ERC and make use of this fabulous venue! There are many different activity themes and options for you to choose from for a guaranteed brilliant time.
Team Building Days

The ERC is the perfect venue for a day of team building! Call 01204 663 754 for more information on what we can offer.
History of the ERC
A successful partnership between The Wildlife Trust for Lancashire, Manchester and North Merseyside, East Bolton Regeneration and Bolton Council  made the Environmental Resource Centre possible.
A £1.2 million investment was made by East Bolton Regeneration to create the Environmental Resource Centre. The building's striking architecture and design incorporates a number of environmental principles and adheres to the philosophy of sustainable development.