One million steps for wildlife
Lace up your boots and pack some snacks - it's time for Wild Walk Week!
Wild Walk Week is a fun and easy way to help raise money to protect our precious wildlife and wild places. From 24 - 30 August we're challenging people across our region to get outside and help us reach a grand total of one million steps for wildlife, and raise vital funds along the way.
You don't have to trek up a mountain or ramble up hill and down dale to tot up your steps (though that will certainly help!) - absolutely anyone can take part and every step counts.
Fundraise for us on JustGiving
When you select 'Fundraise for us' on JustGiving, don't forget to choose 'Taking part in an event' on the next page.
Fancy a real challenge?
Set yourself a step goal and aim to reach hedgehog, deer or swift status!
Get your Wild Walk Week pack
If you aren't sure where to start with fundraising, fill in the form below to request a Wild Walk Week pack full of advice to help you on your way.
By entering your details you agree to receive email updates from Lancashire Wildlife Trust. We respect your privacy and will never sell your details, and you may change your preferences at any time. For more information about how we use your data please click here, and if you have any questions, please call 01772 324129 or email membership@lancswt.org.uk.
Useful downloads
From sponsorship forms and posters to walking trail maps, here are some extra downloads to help you plan your Wild Walk Week.
Why walk for wildlife?
Walking is a great way to improve both our physical and mental health. In fact, just 30 minutes of walking per day helps to reduce stress and boost mental wellbeing.
Walking is also a wonderful way to feel closer to nature as you absorb the different sights, smells, sounds and textures of the wild world all around you. Sadly, the UK's wildlife is trapped in a worrying downward spiral and we're seeing plants and animals dropping in numbers, wild space being destroyed for developments and waters polluted.
By taking part in Wild Walk Week, not only can you reconnect with the nature on your doorstep, but you can help us bring it back from the brink by raising vital funds that will support our conservation work.
Share your journey on social media
We'd love to see where you get to on your wild walks and hear about how many steps you've reached. Use the hashtag #WildWalkWeek on your social media channels and tag us into your updates!
You can find us using the buttons below.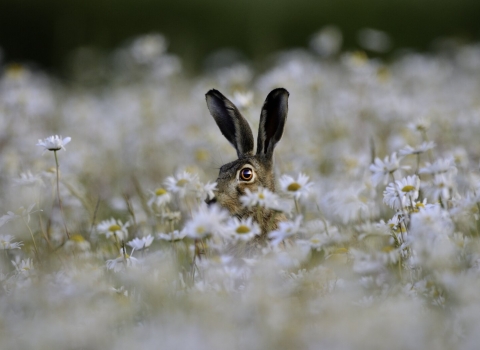 Rambling responsibly
Lockdown has shown us just how grounding, healing and awe-inspiring nature can be. More people than ever are exploring their local natural wonderland, so please remember to stay socially distant from other walkers during your week of wild ramblings. Keep your eyes peeled for signage that will help you stay safe, and look after the wildlife you share these wild places with: stick to footpaths and keep four-legged friends on a lead.
Thank you for making a difference.