Our Sheds is a scheme aimed at helping men and women from all walks of life.
We help men and women who have found themselves isolated from their wider community to reconnect, forge new friendships and keep up those skills learned from a lifetime's experience.
Our Sheds is a now global idea, originating in Australia, and has really taken off and taken root here in the North West.
Our Sheds is run from our Greater Manchester office, the Environmental Resource Centre, on Bury Road in Bolton.
Thanks to the support this past year of the Greater Manchester Police and Crime Commissioner Grant, the group have been able to actively support the local community in a number of ways.
Community 'Friends of' groups, schools and Lancashire Wildlife Trust projects have all benefited from the Our Sheds knowledge and skills.
Some of the activities include building bird tables and houses, making memorial benches for members of the community, repairing walls, benches, gates, bug hotels, helping install reed bed filtration systems, refurbishing tools and machinery... the list is almost endless!
What do we hope to achieve?
Focusing on 'make and repair' projects that benefit the individuals themselves through sustaining valuable woodworking, metalworking and engineering know-how, the aim is that those involved can find a new purpose and an outlet for their talents.
Our Sheds members come from all walks of life and each have a lifetime of experience and a variety of skills to offer that would otherwise be lost to the community.
We truly are an innovative and progressive group, using the simple notion that everybody can be part of something.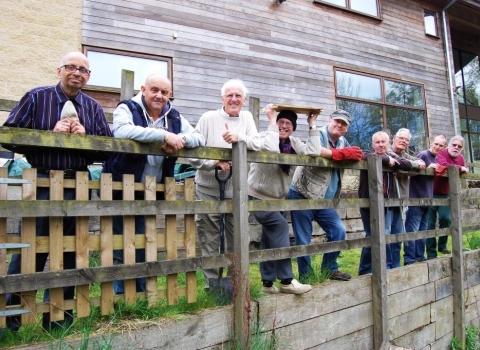 Connecting communities
Our Sheds aims to build community cohesion by creating a self-help and self-sustaining group of like-minded men and women, representative of the wider community and integral to it.