99 % valued connecting with nature as Very Important
67 % valued nearby nature Much More
67 % visited nearby nature Much More during lockdown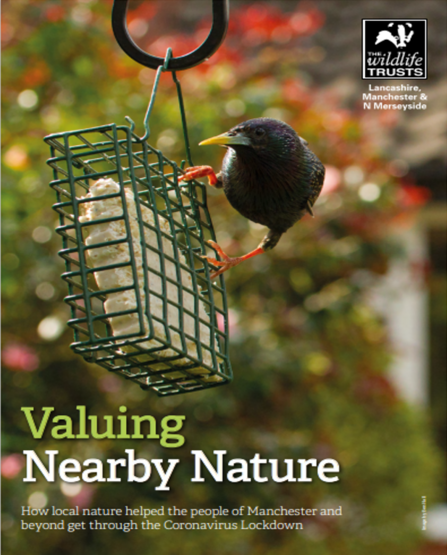 During the full Coronavirus Lockdown, we saw many comments on social media and in the press about people taking notice of nearby nature; birdsong seemed louder, leaves seemed greener and spring was more noticeable.
Our Nearby Nature report, which has been sent to Number 10 Downing Street and Defra, outlines how wildlife helped people to overcome the stress and loneliness of lockdown and, in some cases, offered benefits for serious mental health issues.
How can you help?
Take action for nature in your garden
Sign up to our My Wild Garden campaign and take steps to improve the value of your garden for wildlife. If you are already involved, champion wildlife gardening amongst your friends, family and colleagues. Find out more about our work in Manchester and join the My Wild Garden movement, here.
Anyone aged 16-24 in your household?
As a Trust we have an active Youth Council who helps to shape the services which the Wildlife Trust delivers now and in the future, as well as being involved in campaigning with the public and MPs. Find out more by emailing ebartlet@lancswt.org.uk.
Support us to champion nature-friendly building
We're committed to working proactively with planners and developers to realise nature-friendly development and want to recruit and train a series of volunteers to support us with this work. If you're interested in this voluntary role, please sign up to become a volunteer with us.
Become a member
We're a membership charity with no government support and can't protect wildlife without you. Our members share our love of nature and care about protecting wildlife.