Reconnecting to nature, safely.
National Lockdown Restrictions update
The National Government restrictions came into effect on Tuesday 5th January. We are continuing to pause our expansion of volunteering during this time and are, where possible, avoiding starting new volunteers. Staff are involving active volunteers from within a 10 mile radius from the work site, with exceptions where cover is short or key skills are required. If you are an active volunteer, your local contact will be in touch.
Volunteering beyond the National restrictions
As you know, we rely heavily on our army of volunteers to help us in every aspect of our work for wildlife. You are so important to us and we appreciate the patience you have displayed during these tough times.
Once the Lockdown restrictions have been lifted, we will continue to bring back volunteers on an invite only basis and our practical groups will remain limited to 6 individuals (including staff). We realise this will be a frustration to many, but it is imperative we put the safety of all our staff and volunteers first. This process may be delayed by further Government restrictions, and we will keep you updated as much as possible.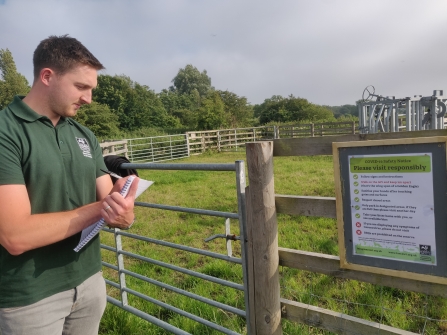 Our Reserves Will Remain Open
Following the Government announcement we've been busy reviewing all of our activities in line with the new guidelines.
Nature is an essential service, for both the wellbeing of people and for wildlife. It is critical that we continue to deliver conservation work and we also feel it is crucial to keep our reserves as accessible as possible for the local communities in which they sit.
Thank you for being patient, it is vital we play our part in tackling the pandemic and protecting our NHS. If you would like to support the Trust through this difficult time, you can become a member or make a donation.
Once again, we need nature now more than ever…
You can find the latest information here
Volunteer Frequently Asked Questions
When am I allowed to volunteer?

The Trust will continue to work hard to bring more volunteers back when it is safe to do so, and in line with the ever-changing government guidance. Volunteers will be contacted by staff once we are in a position to get them involved.
What will volunteering look like when I return?

Volunteering may look and feel a bit different when you return and we may have to make further changes as Government guidance changes. Everyone will be required to complete a Returning to Volunteering form and read the Returning to Volunteering presentation before they return. Volunteers will also be asked to sign a RAMS (Risk Assessment Method Statement) document before they start volunteering for the day. RAMS is our new Health and Safety process which has ensures volunteers understand the task and the risk assessment associated with it. Volunteers cannot volunteer if they do not sign this document to confirm they understand how the task should be carried out safely. Whilst volunteering we ask everyone to remain 2m apart, sanitise hands regularly and not to share tools. Unfortunately, the sharing of food and the provision of communal refreshments is also currently prohibited so please bring your own supplies and remember to consume 2m apart.
What if I don't feel ready to return?

Safety is of paramount importance to the Trust and we wouldn't want anyone to come back if they didn't feel ready to return. We can discuss your concerns when we speak to you to see how you are getting on.
What happens if I show symptoms, can I still attend?

Please do not attend if you are showing any symptoms of Covid 19 and inform the member of staff who co-ordinated your volunteering that day. Symptoms include a high temperature, a new continuous cough and a loss or change to your sense of smell or taste. You must self-isolate for 14 days. Further help can be found on the NHS website: https://www.nhs.uk/conditions/coronavirus-covid-19/symptoms/
What happens if a member of my household or a person I have come into contact with shows symptoms?
How many people will I be volunteering with?

The current guidance states work should be carried out with the minimum number of people required for the task and a maximum of six.
What happens if where I live goes into a local lockdown, will I still be able to volunteer?

If your area goes into a local lockdown your volunteer lead may invite you to come in as the risk is slightly reduced outside when the procedures are followed. If you don't want to come in whilst your area is in a local lockdown that is fine, just let us know.
What happens if where I volunteer at goes into a local lockdown, will I still be able to volunteer?

If the area your site goes into a local lockdown then your volunteer lead may invite you to come in as the risk is slightly reduced outside when the procedures are followed. If you don't want to come in whilst the area is in a local lockdown that is fine, just let us know.
I usually car share when I volunteer is this still allowed?

Car sharing is not recommended under current government guidance unless you are in the same household bubble. We are therefore asking volunteers not to car share during this current time.
Will protective equipment be provided?

Staff will be providing the protective equipment for tasks as they did before the pandemic. In some roles it may now require you to take home some of your own equipment but staff will advise on this as it depends on the volunteering role and equipment.
How safe is the equipment?

Staff always strive to keep the equipment in the best condition possible and already carry out regular equipment inspections. During the pandemic staff are also ensuring equipment is disinfected before and after use to make it as safe as possible. The risk is also reduced by volunteers and staff following the procedures on regular handwashing and maintaining safe distances.
Who can I contact if I have further queries about volunteering during the pandemic?

If you have any concerns about volunteering please discuss these either with the member of staff you would normally volunteer with or email volunteering@lancswt.org.uk and a member of the team will get back to you. Please also note not all members of staff are back off furlough yet and many are doing reduced hours so if you are unsure please use the volunteering email where someone will endeavour to respond when we can.