Join the UK's biggest nature challenge!
We challenge you to do one wild thing a day throughout the month of June! That's 30 simple, fun and exciting Random Acts of Wildness.
When you sign up, you'll get a free pack of goodies to help you plan your wild month, plus lots of ideas to inspire you to stay wild all throughout June (and beyond!).
What is 30 Days Wild?
30 Days Wild is a fun, feel-good challenge run by The Wildlife Trusts every June, bringing people closer to nature where they live and helping them take positive action for wildlife. From little things such as puddle-jumping and insect-spotting, to  litter-picking and going peat-free in your garden, your daily Random Acts of Wildness can be anything you like.
In 2020, more than half a million people got involved, from families and couples to teachers, care homes and workplaces. Everyone's invited!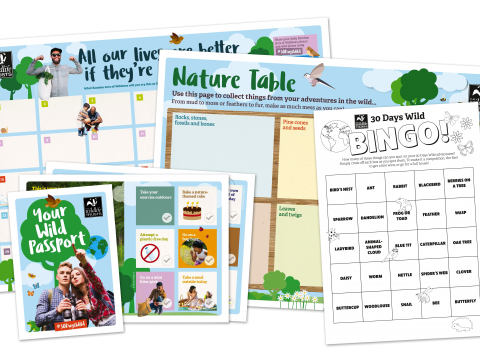 What's in a 30 Days Wild pack?
When you sign up you can download a host of goodies to help you plan your month, including:
- A wallchart
- Wildlife bingo
- An activity passport
- A nature table template
We'll send you lots of resources leading up to June too, so keep an eye on your email inbox!
Get your pack
I'm a big fan of 30 Days Wild– I love being part of the surge of enthusiasm that emanates from everyone involved! Get creative and find 30 new ways to be inspired by the beauty of the outdoors and nature or be entertained by trying out new nature activities. It is especially important if you live in the city as nature is all around, just waiting to be found.
Why take part?
While nature needs us more than ever, the reverse is also true. We're all part of nature, and it should be part of our lives. Over the past six years we've been working with the University of Derby to find out about the impact that 30 Days Wild has on participants. The results show that people feel happier and healthier after taking part, and for months after too!
Who are Lancashire Wildlife Trust?
The Wildlife Trust for Lancashire, Manchester and North Merseyside is part of the Wildlife Trusts movement. We're a grassroots conservation charity working alongside 46 other individual Wildlife Trusts in every corner of the UK, Alderney and the Isle of Man.
Our Wildlife Trust cares for 50 special wild places on your doorstep, from beautiful ancient woods and threatened peatlands to rugged limestone cliffs and inner-city pockets of wildness. We protect and restore wildlife, campaign for a Wilder Future and inspire others to care for our precious natural world, on land and at sea.
By taking part in 30 Days Wild, you can help us achieve our mission of bringing people closer to nature and helping wildlife thrive once more.
Ideas to get you started