What the project will achieve
We will be engaging with a wide range of people through family-focused activities at Liverpool World Museum, Blackpool and Manchester Sealife Centres, Liverpool's green spaces and along the beautiful beaches of the Sefton and Fylde coasts. In addition, we'll be working closely with local naturalist groups and coastal communities to recruit and train volunteers to become Marine Champions to lead activities, carry out essential survey work and contribute to our campaigns.
Working closely with local schools, the Our Irish Sea project will help children to explore their coastline more by getting them out on the shore to investigate the huge diversity of marine life that can be found along the North West coast of England.
Beneath the waves
As most of Liverpool Bay's diverse wildlife is hidden beneath the waves, the best way to survey the Irish Sea is on beaches and in harbours. We will conduct Shoresearches as part of our UK-wide Citizen Science project to record our rocky shore species and we will also delve below the surface to uncover our sand and mud dwellers.
We will investigate the creatures that call the walls of the famous Albert Dock in Liverpool their home and dig around in the Blackpool sea defences for hidden rockpool treasures. All the while, ensuring that our marine species are recorded with our local records centre, Merseyside BioBank.
Not forgetting our larger marine fauna (whales, dolphins and seals) we will also conduct Seawatches in partnership with the Seawatch Foundation. All of these records are essential in our campaign work lobbying for more Marine Conservation Zones in the Irish Sea and for protection and better management of our marine environment for the future.
Inspiring people to care about our seas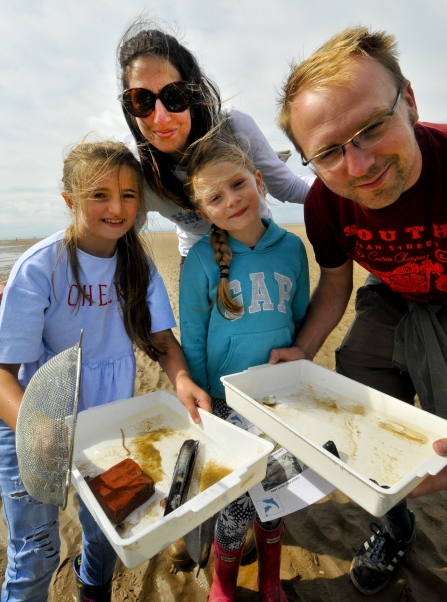 Recent surveys have shown that not many people are aware of the threats to our marine environment and in the North West the Irish Sea has often been misrepresented as murky and lifeless.
It is a hugely important area for both humans and wildlife and those muddy waters have an incredible amount of biodiversity beneath the surface. This has been particularly evident with recent sightings of humpback whales, dolphins and green turtles in the area, proving that there is an abundance of food for even the largest species. The consequences which further damage to our seas could have to our marine species are devastating....
Therefore, we must inspire and engage people with our marine environment in order to build a lasting connection that will encourage them to support our campaigning for its protection. It is vital that we involve young people in surveying the coastline for evidence of wild and wonderful creatures as these youngsters will become the future guardians of our Irish Sea and we must make the search interesting for our junior wildlife detectives.
Get in Touch
If you have a love of all things marine and want to share your knowledge and passion then please get in touch with:
Emily Baxter, Senior Marine Conservation Officer
E: emilyb@cumbriawildlifetrust.org.uk