90 % of Lancashire's sand dunes are in Fylde
80 % of our sand dunes have been lost over 150 years
6 hectares of increased dune habitat since 2008
20 new dune slacks created to increase biodiversity
40 % decrease in non-native scrub
6,500 + volunteer hours contributed
10,000 + people engaged in events
500 + people attended guided walks
3,000 + Students involved in our Beach School Programme
400 + Sand Lizards reintroduced to our dunes
11,000 Christmas trees buried on the beach to build dunes
60 + metres of cumulative dune growth since 2013
Over the past 150 years, more than 80% of the sand dunes in Lancashire have been lost
The Fylde Sand Dunes Project is a partnership between The Wildlife Trust for Lancashire, Manchester and North Merseyside, Fylde Council and Blackpool Council, currently exclusively funded by The Environment Agency until 2022. This project works hard to encourage visitors to the dunes in a way which does not further threaten their existence, whilst letting people know all about the amazing wildlife that lives in this special place.
We are also working to improve the dunes as a sea defence feature; increasing their width by encouraging natural dune growth on the foreshore. The dunes act as a natural barrier to the sea at high tide, and release sand during storm conditions to reduce wave action. 
With the help of volunteers and the local community, the Dunes Project aims to make the dunes a better place for both wildlife and people.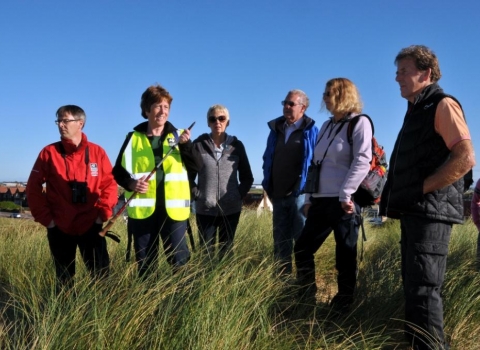 Get involved
We hold regular volunteer work parties tackling everything from scrub removal to litter picks - there's something for everyone to get involved with!
We also run a series of free guided walks around the Fylde Sand Dunes. We're relaunching these for 2021 but dates may change depending on current COVID-19 restrictions. Do check our Facebook page for updates.
Sunday 1 August: 11am - 1pm
Sunday 5 September: 10am - 12pm
Sunday 3 October: 10am - 12pm
Sunday 7 November: 10am - 12pm
Sunday 5 December: 10am - 12pm
Contact us
For information about volunteering with this project, please contact:
Catherine Haddon
T: 01772 318 374
E: chaddon@lancswt.org.uk