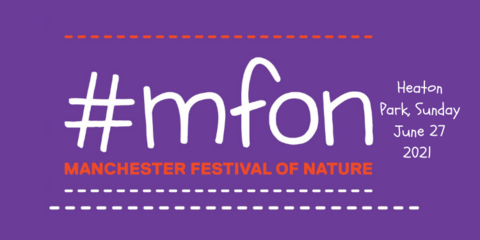 The Manchester Festival of Nature 2021
The Manchester Festival of Nature is a celebration of the wild plants and creatures that inhabit the city and its surroundings. Organised by the Manchester Nature Consortium, it features everyone involved in conservation in the North West.
The 2020 virtual festival was such a success that we will be adding virtual elements in June so lots more people can enjoy Manchester's wildest festival.
We have big plans for June, if regulations allow. MFoN organisers are just itching to get out and get people engaged in the amazing nature in and around Manchester. The date has been set and we will be announcing some of our brilliant activities over the coming months here and on our Twitter page.
If you're a business or organisation, why not read more about how you can sponsor Manchester Festival of Nature and show your support for local communities and wildlife? See our video
Join our Youth Panel
We are looking for four passionate, energetic and creative young people from the Greater Manchester area to join the Manchester Nature Consortium Youth Panel.
As part of the Youth Panel, you will work alongside the Manchester Nature Consortium and the six current Youth Panel members to plan and deliver the 3rd annual Manchester Festival of Nature at Heaton Park.
Download the information pack and apply by January 3rd 2021.
Timeline
January 3rd 2021 - Application closes at midnight
January 8th - Applicants are notified 
January 16th  – Youth Panel launch  
Eligibility
This opportunity is open young people aged 12-17 living in Greater Manchester. There is an exception for young people with special education needs and disabilities (SEND), who can apply up to the age of 25.
If you have any questions please get in touch with emma@actionforconservation.org, the MNC Youth Coordinator. 
What was on the MFoN 2020 programme?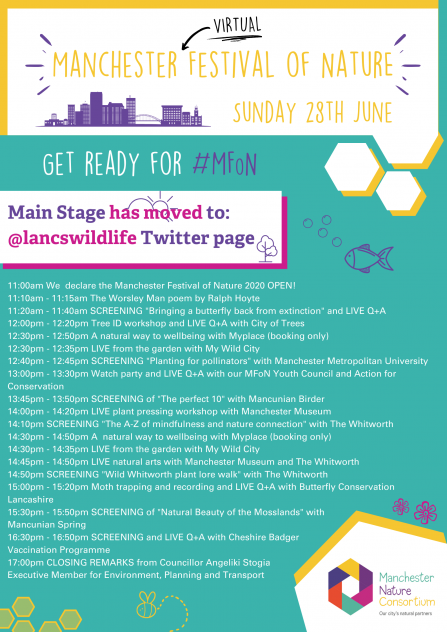 The people of Manchester are so lucky to have such wonderful wildlife on their doorsteps and we can't wait to help them experience it
Who is involved in MFoN?
The Wildlife Trust for Lancashire, Manchester and North Merseyside | Cheshire Wildlife Trust | City of Trees | Action for Conservation |  The Conservation Volunteers | RSPB | The National Trust | RHS Bridgewater | Manchester Museum | Manchester Metropolitan University | University of Manchester | Whitworth Art Gallery | Friends of the Earth | Canal and River Trust | The Carbon Landscape | Lancashire Peatlands Initiative | Butterfly Conservation Lancashire | Manchester City Council | Heaton Park | Greater Manchester Combined Authority | Groundwork | Greater Manchester Birding City Region | Cheshire Badger Conservation Programme |  Greater Manchester Local Records Centre 
This is a chance to understand and cherish the amazing wildlife in the city
Keep up with MFoN on social media
Want to stay up to date with everything MFoN? Follow us on Facebook, Twitter or Instagram!