Combatting the climate and nature crisis
A global emergency
We are in the middle of a climate and nature emergency, and the two are inextricably linked. Climate change is driving nature's decline, and the loss of wildlife and wild places leaves us ill-equipped to reduce carbon emissions and adapt to climate change.
One cannot be solved without the other.
We know from experience that restoring nature can help soak up carbon emissions - known as natural solutions to climate change - but that isn't all. When healthy, our natural habitats can also help us cope with the effects of climate change: reducing the risk of flooding, preventing coastal erosion, improving people's health and wellbeing, and maintaining healthy soils, clean water and the pollinators needed for our crops.
Nature itself is at risk from climate change, but if helped to recover, its potential to store carbon means it can help us turn the tide on the climate catastrophe.
Natural climate solutions
What are we doing to help? 
We've been working on the ground to restore nature since 1962. We protect and restore important habitats that lock carbon safely away and limit the effects of climate change, including peatlands, saltmarshes, wetlands and ancient woodland.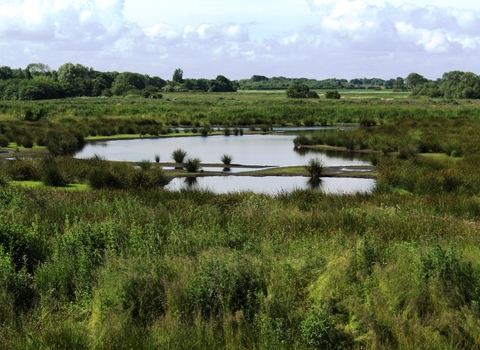 Lunt Meadows
In just 10 years we've transformed Lunt Meadows from agricultural land to a thriving wetland wonderland home to breeding marsh harriers and bitterns; dragonflies, water voles and wading birds; and wintering short-eared owls. The reserve protects local residents from one of the worst effects of climate change - flooding - and its unique history teaches people about how man has weathered climate change since Mesolithic times.
Find out more
Help us take climate action where you live
Together we can tackle the climate and nature crisis
What you can do to help
The climate and nature crisis is incredibly overwhelming, and it's easy to feel at a loss about what to do. Thankfully, action can begin at home, and every small change we make adds up to one huge difference for the planet.