Our Trustees bring a wealth of knowledge and wide-ranging experience to the Trust. 
Members of Trust Council
Chris Davies (President)

Chris was a European MP for the North West from 1999-2014, and a team leader (coordinator) on the European Parliament's environment committee. During these 15 years he worked primarily on EU wildlife, waste, climate, energy and sustainable fisheries legislation.

Chris was an MEP winner of the Green Ribbon Political Award, and also gained the MEP of the Year award in the environment category.He is also a former member of the House of Commons, and consultant in communications and marketing.
Ted Jackson, MBE (Vice-President)

Ted Jackson was Chairman of the Trust Council from 1982-2013.

Ted was a former Chief Education Officer with the Wildfowl and Wetlands Trust, and prior to his retirement in 1997 was Head of Countryside Services in Liverpool, based at Croxteth Country Park. Ted is also a knowledgeable ornithologist and environmental educationalist. 
Steve Garland (Chair)

Steve is a museums and heritage consultant with interim management experience across a wide range of organisations and is a Member of the Chartered Management Institute.  He chairs the Management Action Group and is a member of Conservation sub-committee.  

He also chairs the England Committee for the Royal Society of Wildlife Trusts and sits on the national RSWT Council.  An experienced field entomologist and a Fellow of the Royal Entomological Society, Steve is passionate about the urgent need to reverse the decline in nature and sees the Wildlife Trusts as key players in this.
Hazel Ryan (Vice Chair)

Hazel is a retired solicitor, who specialised in change management, governance and risk. For 12 years, she was Quality Director and then Risk Director at international law firm, Eversheds LLP, with wide ranging responsibilities covering knowledge management and internal audit, as well as risk, quality and compliance.

Hazel is helping to showcase the trust's activities across Greater Manchester, but her favourite reserve to "get away from it all" is Warton Crag.
Andrew Royce (Honorary Secretary)

Andrew is a commercial solicitor who works both in house and externally for a wide range of clients. He has been a beekeeper for over 25 years and a fisherman for much longer. He now lives with his wife and children in Northern Lancashire, sandwiched between the Lake District National Park and the Yorkshire Dales National Park.
Julian Jackson (Treasurer)

Julian worked as  Managing Director of an electronics company. He has served as a non-executive director of a number of companies and a venture capital fund, while he is currently is chairman for two small companies.

A keen fellwalker, Julian is passionate about protecting and enhancing the environment.
Ron Wade (Chair Conservation Committee)

Ron is a Chartered Director currently working in the financial sector. In a 40 year career he has held a wide range of senior posts in various sectors including Manufacturing, Telecoms and Travel.

His main areas of expertise are Finance and IT and Ron describes his interests as "anything outdoors".
John Wells (Chair of Safety Health and Environment [SHE] Committee)

John is a Registered Chartered Safety and Health Practitioner and until his retirement in 2015 he was the UK Environment and Safety Manager for AB InBev, the worlds largest Brewing Company. John is currently the Chair of the Lancashire Environment Forum and the Lancashire Nature Partnership.

As well as his wife, 2 daughters and 5 grandchildren John's passion remains as Safety, Health and the Environment.
Stephen Niven (Chair of Brockholes Enterprises Limited [BELT])

Stephen is a qualified accountant with extensive management experience in industry and commerce.

Married with two grown up children he has a lifetime's interest in wildlife, particularly birds and is a Volunteer Guide at our Brockholes Nature Reserve near Preston.
Deborah Shackleton CBE (HR Chair)

Deborah works as a part time Trustee and Non-Executive Director for a number of charities and housing organisations including Chair of Grainger Trust in London and Career Connect in Liverpool.

Deborah was previously Chief Executive of The Riverside Housing Group; her services to the housing sector were recognised when she was named a Commander of the British Empire in 2009.  Deborah is originally from Yorkshire, a graduate of Oxford University and married with two sons.
His Honour Judge Ross Duggan

A Circuit Judge, based in Preston where he presides over Family Courts, Judge Duggan was a barrister with Chambers in Liverpool for 26 years before he was appointed in 2006.

His interests include all things relating to the countryside.
Andrew Berry

Andrew worked for 35 years in the family business of HJ Berry and Sons Ltd, Britain's biggest wooden chair making company. He also sat on the steering group of the Lancashire Woodlands Project for many years and for some time in the same role at the Red Rose Forest Trust.

Andrew is a passionate conservationist, vegetarian and supporter of the principle of "Rewilding".
Professor Philip James

Philip is currently Professor of Ecology in the School of Environment and Life Sciences at the University of Salford. Philip is a Fellow of the Royal Society of Biology and a Fellow of the Chartered Institute of Ecology and Environmental Management.

He is a board member of the Local Nature Partnership for Greater Manchester. Philip contributes to degree programmes in Wildlife and Practical Conservation, Wildlife Documentary Film Production and Urban Ecologies. His main research interest lies in the field of social-ecological systems.
Gemma Grady

Since 2012 Gemma has worked for the National Trust within their Consultancy, as one of 500 of the Trust's expert professionals. Covering a large area of the North West she supports built properties and outdoor spaces to grow support and become financially successful. Gemma studied at Liverpool John Moores and the University of West London - Reading. She has a varied background in the commercial, public and third sectors. Gemma is passionate about wildlife, people and increasing public awareness about the environment. She is delighted to be part of the Wildlife Trust for Lancashire, Manchester and North Merseyside.
Satyen Sinha

Satyen is the Founder and Director of Bumblebee Connect, an international communications agency helping organisations to develop policy and campaigns. He brings with him experience of designing campaigns that influence the public, government, charity and corporate sectors.

Whilst he has advised on issues ranging from international trade to energy and health, his passion remains the environment for which he has over 10 years' experience in various conservation roles, including leading delegations to the Paris Climate talks and the Convention on International Trade in Endangered Species (CITES).
John Loder

John worked in construction in the UK and Middle East, becoming a Chartered Builder before taking up conservation work full time. With fellow volunteers he set up Red Lee Conservation Trust, managing a small reserve in the early 2000s. He combines practical conservation work with research projects, specialising in rare and declining bird species.

In his spare time John is the proud co-owner of a community football club, and can still be seen getting muddy on many of our reserves. 
Joan Hunter

Joan has had an extensive career in Human Resources Management within the private sector and also brings experience as a Trustee of occupational pension schemes. She is a volunteer with Lancashire Wildlife Trust and loves to take part in citizen science projects, conducting surveys of threatened species and habitats. Joan is a keen advocate of the therapeutic benefits of connecting with nature.
Iqbal Hasan (co-opted)

Iqbal is a qualified commercial accountant with more than 25 years of experience in managing finances for leading FT100 companies, with a proven track record in driving business growth.

A keen hiker, Iqbal can be found walking the beautiful Lake District on many a weekend, appreciating the natural environment and all it has to offer.
Our Patrons
Edwin Booth CBE – Patron
Dame Caroline Swift - Patron
Baroness Williams of Trafford – Honorary Vice President
Dr Joe Dwek CBE – Honorary Vice President
Co Opted Trustees will be put forward for election at the next AGM.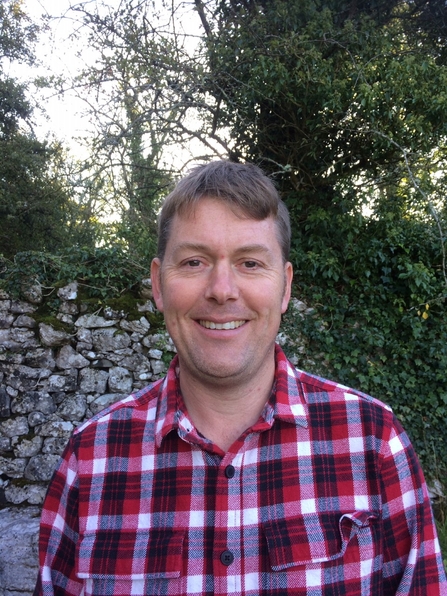 Tom Burditt, CEO
Tom is the CEO of the Wildlife Trust for Lancashire, Manchester and North Merseyside. His passion is for halting the tragic decline in biodiversity, and ensuring that everyone, wherever they live, has access to daily contact with nature.
Tom worked for Gloucestershire Wildlife Trust for 10 years, first as the Reserve Manager for Lower Woods nature reserve and then as Nature Reserves Development Manager. After this he spent 10 years with the National Trust, first looking after the team and land around Morecambe Bay before taking on the role as General Manager for the North Lakes.
Tom is chair of the Morecambe Bay Partnership, a trustee of the grant-giving Halpin Trust and a scout leader in Lonsdale, where he lives.