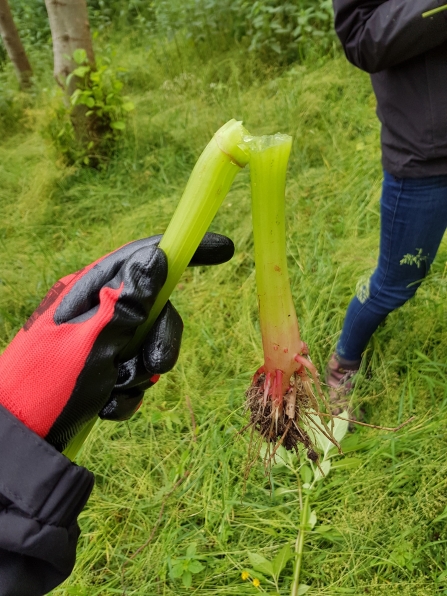 This invasive plant was introduced from the Himalayas in 1839 for its pretty pink flowers. People didn't realise how badly the balsam would affect our own ecosystem, and the plants quickly spun out of control. Himalayan balsam grows fast and spreads incredibly quickly, choking our native flora and altering the habitat for all kinds of other species.
Himalayan balsam has hanging green seedpods that, when touched, explode to disperse their seeds. This means balsam needs to be removed before it has chance to flower and produce pods, so Team Marketing headed to Brockholes for a 'Balsam Bashing Ice Cream Party!'
Victoria, Clare, Alice and I met up with Jenny Reddell, Brockholes' Myplace Volunteer Coordinator, pulled on our gloves and set about ridding Boilton Wood of balsam.
After a spell of rain, the soil was nice and soft and the balsam didn't put up a fight; the stems came free with their roots intact. We snapped each stem at the lowest growing node, ensuring it couldn't re-root, and cast them aside into a pile to rot down.
It wasn't long before I got into a rhythm and discovered that balsam bashing was actually really therapeutic, and my quick trip out of the office turned into a mindful nature moment. But this important conservation session was about to get even more exciting.