Latest wildlife sightings – October 2019
Autumn has well and truly arrived. With leaves turning orange and migrant birds flying in from overseas, it's a wonderful time to head out and spot wildlife. Here are some of our top wildlife sightings from October.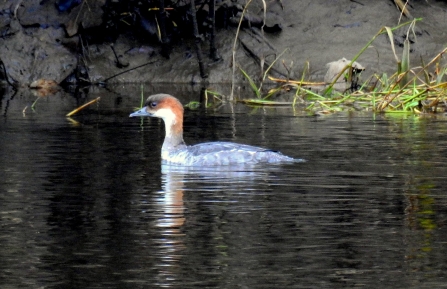 Brockholes Nature Reserve
Brockholes is one of the best autumn walks in Lancashire, especially if you head through the ancient woodland, Boilton Wood, where there are countless fungi species to spot. As well as stunning autumn scenery visitors were treated to plenty of sightings of jays and bank voles on the hunt for nuts, as well as visits from stonechats and our regular autumn fieldfares and redwings. Those who looked skywards saw flocks of whooper swans flying in from Iceland, as well as the start of our famous starling murmurations – numbers are already building!
Our most exciting visitor, however, was a female smew who continues to show well on Meadow Lake. We don't know how long she'll be around, so don't miss your chance to try and see this rare duck.
Despite all of these autumn wildlife sightings there was still a taste of summer in the air at Brockholes last month. Common darter and migrant hawker dragonflies were resting by the sides of the pools, ruby tiger moth caterpillars were making their way across the paths and some wildflowers were still blooming: ox-eye daisy, yarrow, knapweed and even the odd buttercup.
Mere Sands Wood
Is there anything better for the soul than an autumn walk in the woods? Mere Sands Wood really comes into its own at this time of year and has been delighting visitors with fiery leaves and fungi galore. Common earthball (also known as pigskin puffball), fly agaric, hairy curtain crust, shaggy scalycap and the wonderfully weird 'bleeding' beefsteak fungus (very fitting for Halloween) have been recorded over recent weeks.
The cormorant roost grew throughout October and watching these birds fly in for the night is an unmissable treat. Visitors also heard water rails squeaking around the pools, so keep your ears pricked and eyes peeled whilst sitting in the hides.
Seven Acres
Nestled in Bolton, Seven Acres is a bit of a hidden wildlife gem. In October visitors spotted goosanders, great spotted woodpeckers, a kingfisher, grey wagtails and dippers, one of which was seen turning over stones that were almost as big as itself in pursuit of river-dwelling invertebrates! Other lovely wildlife sightings at Seven Acres included a sparrowhawk, large groups of redwings, busy flocks of long tailed tits and a fox.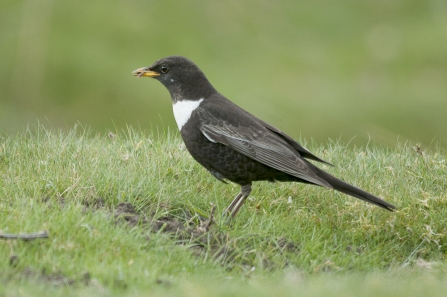 Middleton Nature Reserve
October was a very exciting month for wildlife sightings at Middleton Nature Reserve in Heysham. As well as the usual birds like little grebes, Cetti's warblers and water rails, visitors were treated to an influx of yellow-browed warblers. These tiny birds (around the size of a goldcrest) breed in Siberia then migrate south-westwards, often making landfall in the UK along the way.
Perhaps most excitingly, however, was a visit from a ring ouzel! Nicknamed 'the mountain blackbird', ring ouzels breed in the uplands before their autumn migration, visiting coastal areas like Middleton Nature Reserve on their way back to their wintering grounds. What a treat.
Heysham harbour
If you fancy a day of autumn wader and wildfowl-watching then don't miss a trip to Heysham harbour. A great skua, razorbill and guillemot were all seen out at sea from the shore; wigeon were recorded in groups of up to 80 on Red Nab; and 'seawatch' sessions revealed everything from common scoter to little gulls.
The sea wall and heliport proved to be favourite roosting and foraging grounds for huge groups of knot. Fly-ins from peregrine falcons spooked them into the most stunning, shimmering murmurations.
Other notable bird sightings at Heysham harbour in October included a jack snipe on the saltmarsh, purple sandpiper on Red Nab and a juvenile red-throated diver off the stone jetty – plus, of course, a decent number of yellow-browed warblers.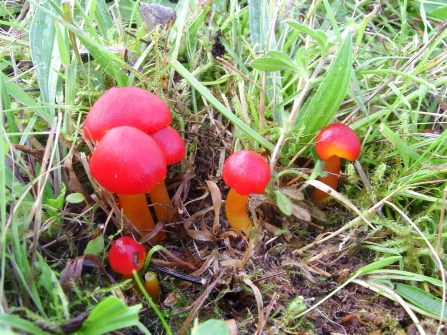 Heysham Nature Reserve
Heysham Nature Reserve is perhaps most famous for spring and summer sightings of orchids and rare insects, but this peaceful wildlife refuge is just as exciting during autumn and winter.
Last month we recorded everything from redwings and yellow-browed warblers, to big flocks of greenfinches filling up on the bird feeder. In the middle of the month around 3,200 pink-footed geese were seen flying overhead and honking noisily. There was even plenty for fungi-lovers to see, as the grassland became a hotspot for different waxcaps.
Seaforth
The number of waders roosting and feeding at Seaforth has steadily grown during October. The juvenile spotted redshank first sighted in August is already going grey: moulting into its adult plumage. Not only that, but a late whimbrel was spotted by regular visitor Gavin Thomas alongside 5,000 knot.
Lunt Meadows
Passerines, raptors, owls, waders: Lunt Meadows has it all at the moment. Stonechats, reed buntings, large linnet flocks and a very obliging kingfisher delighted visitors throughout October, while snipe and water rails certainly weren't shy, either. Huge flocks of pink-footed geese were filmed flying overhead, but it was the birds of prey that put on a real show.
Buzzards, kestrels, sparrowhawks, marsh harriers and even a merlin were seen by excited visitors, but the main event was undoubtedly the short-eared owls. These stunning birds join us every autumn and winter, with one visitor spotting five in the air at the same time after being spooked by a marsh harrier.
What have you seen at our nature reserves recently? We love seeing your pictures and hearing about your sightings, so don't forget to tell us all about them on Facebook, Twitter or Instagram. Simply click one of the icons below.