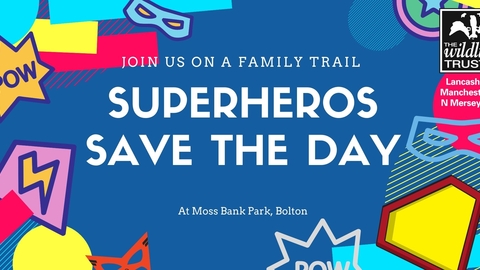 Superheroes Save The Day - May 4th
Location:
The Café at Moss Bank Park,
Moss Lane,
Bolton,
BL1 6NB
Nine superheroes have come to protect wildlife at Moss Bank Park and we need your help to track down these intrepid champions of nature.
About the event
'Superheroes Save The Day' offers the perfect opportunity for little ones to let of steam and explore the park in a new and exciting way. You will head out on an adventure around the wider park to find our hero's and discover who they are attempting to rescue. So why not step away from the slides and swings on this occasion, and be part of a family trail where your little one's imaginations can run wild as them.
Families will need to register on arrival in our café where they will receive a map and an instruction sheet. Plus, for a perfect ending, we'll have a refreshing ice cream for all ticket holders. Packs can be shared amongst the family members as required. All income generated from the event will be used to support wildlife conservations and community engagement programmes.
This event is perfect for superhero and nature lovers alike so why not dig out your favourite superhero outfit and join us for what promises to be a legendary outdoor event for the whole family to enjoy.
Useful information
On arrival please head to Moss Bank Park café where you will register and receive your pack.
The event is charged at £3.50 per pack. You do not need to purchase tickets for adults and packs can be shared amongst children if you prefer. Tickets can also be purchased on the day from the park cafe charged at £4.00.
Complimentary ice creams will be allocated based on the number of packs purchased.
All income generated from the event will be used to support wildlife conservations and community engagement programmes.
All ages are welcome but the event is aimed at children between the ages of 3-7 years.
The event takes place outdoors so for your own comfort please wear suitable outdoor clothing.
The event takes place in the WIDER PARK which allows dogs.
There is free parking available.
Catering and toilet facilities are conveniently located.
Important Covid-19 measures
You may only participate in this activity in a group of up to 6 people or 2 households.
People from different households will need to socially distance from each other at all times.
We are required to collect your contact details so that you can be contacted if needed by the NHS Test and Trace programme. Your details will be held securely under GDPR for up to 21 days. 
We have designed this event based on the current government guidance available at the time of publishing.  Government guidance is subject to change.  If we are unable to run this event due to a change in the guidance we will contact you by email and make arrangements to transfer or refund your booking.
Any changes to government guidance may impact on how we deliver this event. If we need to make any changes, we will contact you by email with an update.
Know before you go
Parking information
Free parking available