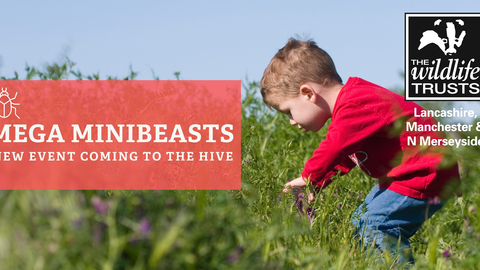 Mega Minibeasts at the Hive, Moss Bank Park (BOLTON) - June 19th
Location:
The Hive at Moss Bank Park,
Moss Lane,
Bolton,
BL1 6NB
All bugs are brilliant in their own way. Join us for a game of bug top trumps where you will discover amazing facts about these beasties.
About the event
On arrival you get to choose the bug you want to be, before heading out to explore the Hive to find other bugs and discover which you trump.
After learning about some of the weirdest minibeasts from around the world, you will go on a bug hunt. You will explore the site searching for insects, looking under tree stumps and amongst the long grass.
And there's more, you get to make a seed bomb to take home with you. Plants are so important for all beasties, so as your seeds grow they will provide food and shelter for minibeasts.
With the bugs hunting done a delicious ice cream awaits all our budding entomologists.
Due to Covid restrictions ticket numbers are strictly limited to act quickly to secure your place.
Useful information
On arrival follow the signage into the Hive – which is located behind Moss Bank Park café.
Once in the Hive you will be met by one of our team who will give you your pack and provide you with the instructions you require to complete the activity.
Tickets are priced at £5 per child.
We welcome all ages but the event is aimed at children between the ages of 3-7 years.
Please ensure that you have booked all the tickets you require for your group. All children above the age of 18 months require tickets. Adults do not need tickets.
Please ensure you adhere to the time slot you selected when you booked your tickets. This helps us to limit the numbers onsite at any one time and to manage social distancing for the safety of our staff and visitors.
The event takes place outdoors so for your own comfort please wear suitable outdoor clothing.
The event takes place in the Hive which has a no dog and no smoking policy.
There is free parking available.
Catering and toilet facilities are conveniently located.
Important Covid-19 measures
You may only participate in this activity in a group of up to 6 people or 2 households.
People from different households will need to socially distance from each other at all times.
We are required to collect your contact details so that you can be contacted if needed by the NHS Test and Trace programme. Your details will be held securely under GDPR for up to 21 days. 
We have designed this event based on the current government guidance available at the time of publishing.  Government guidance is subject to change.  If we are unable to run this event due to a change in the guidance we will contact you by email and make arrangements to transfer or refund your booking.
Any changes to government guidance may impact on how we deliver this event. If we need to make any changes, we will contact you by email with an update. 
Booking
Suitable for
Families, Children
Know before you go
Dogs
No dogs on the nature reserve because of sensitive wildlife. You can walk your dog on the adjoining landscape strip leading to a separate nature park (see on-site map).