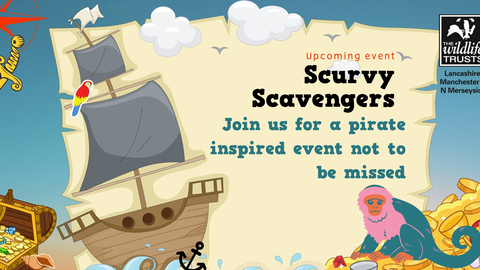 Scurvy Scavengers - September 18th (morning)
Location:
The Hive at Moss Bank Park,
Moss Lane,
Bolton,
BL1 6NB
Escape to world of pirates, treasure and adventure with this pirate inspired event.
About the event
Ahoy me hearties. Here at the Hive we are looking for new crew members to join our salty sea quest to find the ancient lost treasure of Boltonnia.  
Don't miss out on this action packed event, filled with natural exploration, outdoor crafts and stories. They'll be hotdogs around the campfire to feed all our hungry pirates and marshmallow toasting for all the crew. Plus, certificates for all the lads and lassies completing the challenge.
So come on ye scallywags and landlubbers and join us for this unique adventure. Pirate outfits are optional.
The activity takes place on very uneven terrain. If your child has a young sibling in a buggy, there will be a place to park your buggies at the top of the site. Please be aware however, that you will need to carry your little one over unsurfaced paths.
The event is recommended for children aged 4 - 7 years. Other children and siblings outside this age band are welcome to join us but may not get quite so much from this experience.