What's it all about?
Our gardens represent a vast living landscape, and with an estimated 16 million gardens in the UK, the way they are managed can make a big difference to wildlife. Hedgehogs, sparrows and song thrushes are all declining species in the UK, but if we manage our gardens sympathetically for wildlife, these creatures and many more will feel the benefits.
Gardens are increasingly important spaces for wildlife as habitats in the wider countryside shrink and fragment, and climate change takes its toll, and although each garden on its own may be small, together they form a patchwork linking urban green spaces with nature reserves and the wider countryside.
Wildlife gardening in the city
Why your garden is important...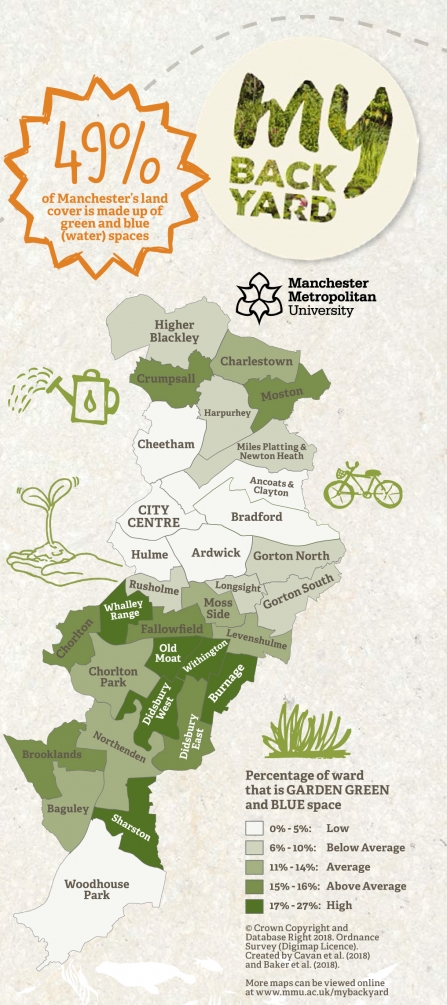 With 20% of all Manchester's green space made up of private gardens, you can really do your bit to help. Wildlife gardening is incredibly important in the city environment because it joins up green space between nature reserves and the wider countryside, providing a 'wildlife corridor' for pollinators and endangered species, such as hedgehogs.
You can't move around easily without roads and rail, and wildlife needs the same ecological network, starting from Higher Blackley right down to Woodhouse Park
Although our gardens only make up 20% of green space across Manchester, this also means the power is in all of our hands to get stuck in and make a difference, however small.
If we have more people choosing My Wild Gardens - planting wildflowers over laying lawns, and hedgerows over wooden fences - not only will we be better protected against the impacts of climate change, such as from flooding or heatwaves, we will be creating better, bigger and more joined up ecological networks for all our wildlife to thrive.
© Crown Copyright and Database Right 2018. Ordnance Survey (Digimap Licence). Created by Cavan et al. (2018) and Baker et al. (2018). More maps can be viewed online here.
Ways you can support birds
Feeding your garden birds is important all year round, but even more so during harsh winters. Vine House Farm offers a wide range of bird food and every sale supports local Wildlife Trusts. This helpful video produced by Vine House Farm will help you understand how you can best help the birds in your garden.