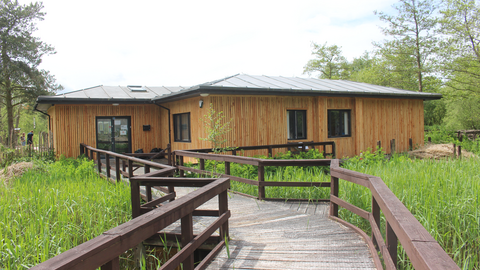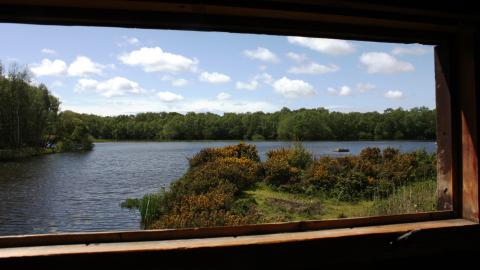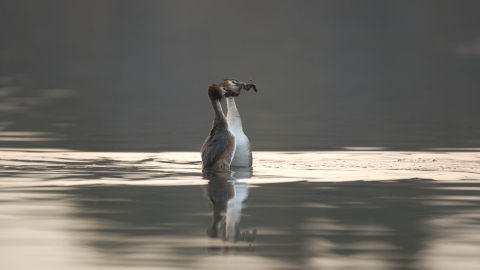 Mere Sands Wood Nature Reserve
Wildfowl, waders and abundant wildflowers thrive in this tranquil oasis of lakes and woodland.
Know before you go
Parking information
Car park is open 24 hours a day, £2 charge applies. Three, six and twelve month parking passes are available from our online shop (see below for more details).
Walking trails
The site is accessible by foot at all times.
Access
95% of paths are suitable for wheelchairs and prams (shortcut through the pine wood is not suitable for wheelchairs). Six hides, the viewing platform and Visitor Centre are fully accessible.
When to visit
Opening times
NEW Visitor Centre and cafe: Open daily, 10am - 4pm
Car park: Open 24 hours.
Best time to visit
Year-round
About the reserve
Nestled amongst the peaceful agricultural landscape of Rufford, Mere Sands Wood is a true wildlife haven.
Spring and summer see new life bloom in the form of marsh orchids and broad buckler fern, while the air buzzes with dragonflies and birdsong. Keep your eyes peeled for species like bullfinches, tree sparrows, great spotted woodpeckers and even sparrowhawks as they fly to and from their nests in the woodland. If you are lucky you may spot the rare willow tit, and if you take a seat in one of the lakeside hides you may even see great crested grebes performing their elaborate courtship ritual.
Autumn and winter mark the arrival of overwintering birds like charming teal, handsome pintail and comical shoveler. Other water birds like little grebes, kingfisher, goosander and bittern have all drawn crowds in recent years, while the lakes and reedbeds also support water rail, reed buntings, goldeneye, pochard, gadwall and more. In all, over 170 bird species have been seen on the reserve, and 60 are known to have bred.
But Mere Sands Wood isn't just a birder's paradise – mammal-lovers will relish the opportunity to try and spot roe deer, stoats and foxes as they creep through the broadleaved and conifer woodland. Water voles inhabit the ditches bordering the neighbouring arable land.
A mosaic of habitats including heaths and sandy, wet meadows encourages an impressive array of plants to flourish. Wildflowers like marsh helleborine, golden dock, yellow bartsia and lesser centaury add stunning splashes of colour, while the pink hues of common spotted, early and southern marsh orchids contrast beautifully with buttery yellow-wort.
You can find out more about our Mere Sands Wood nature reserve by listening to the audio trails at the bottom of this page. Enjoy!
PLEASE VISIT RESPONSIBLY
We want our staff, visitors and volunteers to be as safe as possible at Mere Sands Wood, so please remember to stay socially distant from those outside of your household or bubble, and please wear a mask or face covering indoors and in the bird hides. Thank you!
Environmental designation
Site of Special Scientific Interest (SSSI)
Contact us
Mere Sands Wood reserve enquiries
T: 01704 821809
E: info@lancswt.org.uk
Parking enquiries
If you are looking to purchase or renew your parking pass, please click on the button below.
Listen to our Mere Sands Wood audio trails
Hi-Tech Audio Trail
Sensory Audio Trail
History Audio Trail
Every time we go to Lancashire Wildlife Trust's Mere Sands Wood, we find peace and encouragement, a new beginning… It's part of who we are and we are the richer for it.