Anne leaves a natural legacy for future generations
When Anne Selby arrived at The Wildlife Trust for Lancashire, Manchester and Merseyside, it was based in a ramshackle shed in Cuerden Valley Park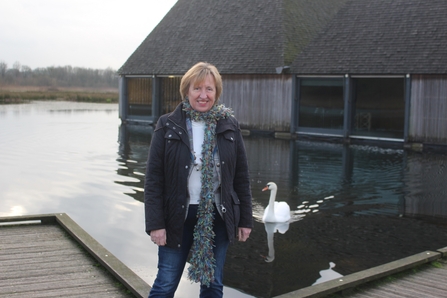 Over the past 29 years Anne has presided over the creation of a charity that stretches across the whole North West region and includes 37 nature reserves. 
Millions of people will have visited the wonderful wildlife havens at Brockholes, Mere Sands Wood, Heysham Nature Reserve, Wigan Flashes, Freshfield Dune Heath, Salthill Quarry and Moston Fairway. 
And vitally important wildernesses have been turned into homes for rare plants and creatures and are now storing carbon, on the frontline against Climate Change. 
Anne retired today and will pass the baton onto Dr Tom Burditt, a North Lancastrian, who has excellent experience working for both the Wildlife Trust and National Trust.   
Anne said: "The Trust has been a huge part of my life for so long and it is hard to imagine life without it. I know many of the friendships made will endure and I am confident that Tom will be able to pick up the baton and take us on to greater things. It is an exciting time to be taking over. We could be on the cusp of seeing real changes to how nature is seen within society. 
 "It has been a brilliant journey. It has been hard work, in equal parts frustrating and exhilarating but I would not have missed it for the world. It has been a privilege to lead such a force for good in our area." 
The Trust has certainly been a force for the good under Anne's leadership, growing to be the county and region's most important conservation body.
Anne joined the Trust in 1992 as the Deputy Chief Executive Officer and Head of Conservation, after some years as a principle planning officer in local government. She had a strong voluntary sector background, especially in the City Farm movement.  
She said: "I arrived at a ramshackle shed in Cuerden Valley Park, which was our HQ at the time. Two years into the job and my predecessor moved on. I applied for the job and was successful." 
At the time, the Trust had about 15 staff, around 3,000 members, a turnover of around £300,000 and "a pretty precarious financial situation".  
Today the Trust has 190 staff, a group turnover of around £8million and 30,000 members. 
Anne said: "The real question is, did we make a difference for wildlife?  We manage more land for nature, we engage with more people, we undertake masses of environmental education in schools and have certainly saved and reintroduced species that had been lost to the North West." 
Anne is particularly proud of the work that has made Mere Sands Wood, in Rufford, into everyone's favourite secret nature reserve, the work, supported Bolton Council to save Red Moss and the building of a dream at Brockholes.
 The Lancashire Wildlife Trust Chairman Steve Garland said: "I'm sure I''m not alone in finding it hard to imagine Lancashire Wildlife Trust without Anne around.  She's been such a powerhouse of enthusiasm, fount of knowledge and tidal wave of advocacy for us; although I'm certain she'll still be rooting for us from the outside." 
A mother of twins, Anne comes from a dairy farming family, and has spent some time over the last couple of years helping to run the family farm in Yorkshire. 
Her departure will be felt throughout the 46 Wildlife Trusts nationally, she is hugely respected at the national office, serves on the board of the Royal Society of Wildlife Trusts and chaired the strategic development committee. 
Anne recently featured in the book "100 Women 100 Stories" (Gulnaz Brennad), an inspirational narrative of a few to empower all women with accounts of courage, achievement, sacrifice and compassion.