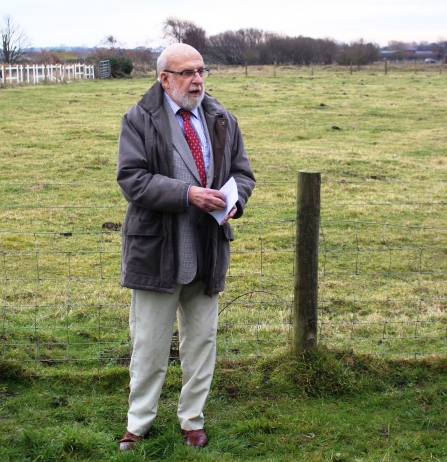 The nature reserve borders Woodvale Airfield, which opened on 7 December 1941 and last Thursday was marking its 75th anniversary since opening.
To commemorate this landmark date, The Lancashire Wildlife Trust, in association with the Formby Civic Society and the Sefton Mayoral Fund, have produced and installed an information board to commemorate the airmen that lost their lives at Woodvale Airfield during World War II, which was unveiled at a short ceremony, which included an informative and emotional speech by Reg Yorke of the Formby Civic Society (right).
Staff and volunteers of the Trust were present, along with members of the Formby Civic Society, local historian Aldon Ferguson and Woodvale's station commander, Wing Commander David Hooton and Station Adjutant, Warrant Officer Neil Blair.