Lancashire Peat Partnership
The Lancashire Peat Partnership brings together organisations working to protect and restore our precious peatlands
By pooling the specialised local knowledge of numerous experts on matters affecting both upland and lowland Lancashire peatlands, we aim to secure a brighter and wilder future for these vital, yet often misunderstood habitats.
Approximately 80 per cent of UK peatlands have been damaged or destroyed, with this figure rising to 98 per cent when you look at lowland peatlands in the Lancashire region alone
Lancashire's peatlands are a vital part of our habitat, as they provide us with:
Natural carbon stores

Peatlands act as a huge carbon store and, when healthy, are able to absorb carbon from the atmosphere, locking it away in their peaty soils for millennia. However, damaged or degraded peatlands actively leak carbon; contributing to climate change, so restoring peatlands forms a vital natural resource in the fight against climate change.
Specialised wildlife habitats

Peatlands are one of our most threatened habitats, being home to a number of specialist plants and animals that are vital to the healthy biodiversity of Lancashire's ecosystem. Many of these species are found solely in peatlands; depending on them for their survival.
Natural flood mitigation

Peatlands provide a natural means of flood mitigation, soaking up water in times of high rainfall and releasing it slowly, thus reducing pressure on water courses further downstream.
Water filtration

Peatlands filter water in catchment areas, helping to improve water quality and reduce the need for costly water treatment services.
Decreased wildfire risk

A healthy peatland is wet and so less susceptible to fires.
Support landscape quality

Peatlands form part of the natural mosaic of our landscape; supporting landscape quality, natural beauty and recreation.
Where are Lancashire's peatlands?
Historically huge swathes of Lancashire, the North West and right across the UK would have been covered by upland blanket bogs, lowland raised mires and other peatland habitats. However, much of this has been drained for agriculture, shooting or peat extraction purposes.
Today peatlands can still be found in Lancashire on many of our uplands areas such as the Forest of Bowland AONB, the West Pennine Moors and the Rossendale 'Gap'. Lowland peatlands include what remains of the Lancashire Mosslands, which are spread across the entire 335,000ha of lowland Lancashire, Greater Manchester and North Merseyside.
A map of Lancashire's peatlands can be found here.
Our partners
Further resources

Please check out the links below for lots more information about the work of the Lancashire Peat Partners and UK peatland restoration policy.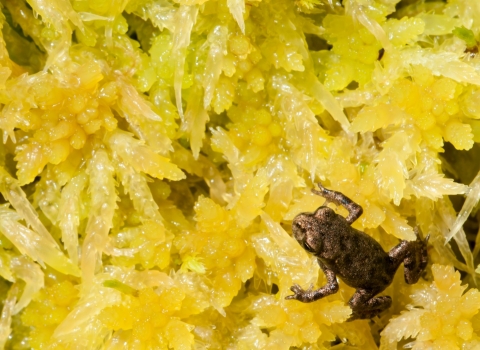 Share our passion for peat
If you'd like to find out more about the Lancashire Peat Partnership, about our peatland restoration work or simply why peat is so important, do get in touch.
Sarah Johnson - Lancashire Peatland Initiative Project Manager
E: sjohnson@lancswt.org.uk
T: 01772 324223
How you can help
Here are just a few ways that you can help our precious peatlands to recover.