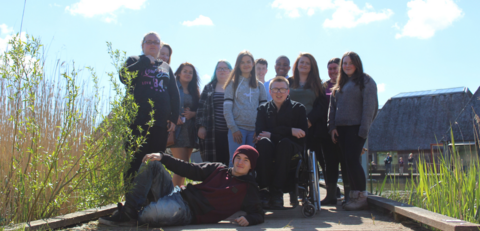 Join our Youth Council!
The closing date for applications is 31st May 2021 at 11:59 pm
Please make sure to read through the various sections below before completing the registration form to apply.
If you have any questions, please get in touch with us at youthcouncil@lancswt.org.uk. 
Who can join the Youth Council?

Applicants must be aged 13 to 25 from January 2021 to be eligible to apply. You will also need to live in Lancashire, Manchester or North Merseyside. Diversity and inclusion are extremely important to us and we are committed to creating an environment where young people from all backgrounds feel welcome, listened to and valued. We encourage applications from young people currently underrepresented in the environmental movement, including young people from Black, Asian and Minority Ethnic (BAME) backgrounds, young people with disabilities, young people from working class backgrounds and LGBT+ young people.

 
What does the Youth Council do?

Help ensure the ideas and voices of young people are included in the work of The Trust.
Give young people the opportunity to input and shape the direction of our organisation in a meaningful way.
Enable young people to co-produce aspects of our work.
Enable young people to be leaders and change makers in our region in conserving and expanding the natural environment across the north west and beyond.
What will I get out of attending the Lancashire Wildlife Trust Youth Council

Gain experience of team working and improve your interpersonal skills.
Gain communication skills, written skills, public speaking, campaigning and photography skills.
Learn to advocate for nature and for others.
Learn to improve and enhance your leadership skills.
Gain John Muir Awards.
Enhance your CV and improve your employability.
Make new friends and take part in regular fun social events.
Have the opportunity to be part of the Lancashire Wildlife Trust and other Wildlife Trusts across the country.
What do I need to be able to do?

Be able to represent the views of young people.
Help get other young people involved in our campaigns.
Share ideas and enjoy discussing things.
Take ideas and information from the Council and the Trust and share with other young people.
Attend our quarterly (four a year) Youth Council meetings, and take part in other events or campaigns.
Have basic IT skills so you can respond to email communications.
Have access to a laptop or smartphone so you can join online meetings, using platforms such as Zoom.
What will be expected of me?

To be a member of the Council you will need to:

Be committed to and uphold the values and visions of The Lancashire Wildlife Trust.
Be interested in the natural world and keen to learn.
Carry out any tasks you may volunteer for (for example write blogs, take photos or produce short videos).
Be prepared to speak your mind and to ask if you don't understand.
Take an active part in decision-making.
Treat other people's views respectfully.
Read any relevant paperwork before each meeting.
Attend all meetings where possible, and let us know if you can't come.
Ensure you are able to stick to the agreed ground rules at the meetings.
If attending meeting where there are sensitive issues being discussed adhere to all confidentiality asked of you.
You will need to be able to work well online, as well as face-to-face, as some of the meetings and events will be online and digital.
What commitment do I need to make?

You will need to:

Be able to attend our quarterly meetings. (They will always be at a weekend or early evening, so will never affect attendance at school or college, and might be online or face-to-face).
Help to proactively share and progress our campaigns, by sharing on social media, talking to others, making campaign materials, or giving talks at your school or college.
Write articles or blogs on projects or issues the Trust is focusing on.
Attend training and events to help you fulfil your role on Council.
Spend some time outside of the meetings helping to campaign or read relevant emails or communications.
Be able to talk to other young people within The Trust and beyond to share information and advocate for other young people.
Be a member of the Youth Council for 1-year.
Represent other young people.
How will The Lancashire Wildlife Trust support me in this role?

The Lancashire Wildlife Trust will:

Ensure that Council Meetings are fun and engaging, with opportunities to learn about the great work of the Lancashire Wildlife Trust.
Provide a variety of free training that will help you fulfil the role of Council member.
Have a named member of staff to support and mentor you in the role. They will help ensure you gain transferable skills to help you progress and gain the experiences and knowledge you seek via this role.
Offer social events (some online) for Council members.
Ask you to register as a Trust volunteer so you will gain all the benefits and opportunities given to all our amazing volunteers, that include training events and social events across the year.
Offer all Youth Council members the opportunity to gain John Muir Awards via their work on the Council, that will help enhance your CV.
Help with transportation to and from the Youth Council events, if you are struggling to find your own way there, so you are not out of pocket.
Provide light refreshments at events.
Offer a free years' membership to the Trust, so you get our brilliant Lapwing magazine and regular updates.
Frequently asked questions

Do I need a computer?

No, but it would be useful to have access to emails and virtual meetings.

When and where are meetings held?

Our quarterly meetings (exact dates TBC but roughly spring, summer, autumn, winter) will be held at Lancashire Wildlife Trust sites or virtually. Most meetings will take place at our Brockholes Nature Reserve, near Preston. Attendance to these is essential. There will also be shorter, non-essential meeting which will take place online at more regular intervals.

How will I get to the meetings as I don't have my own transport?

Where possible we would ask you can get a lift to the meetings. If this isn't possible we will help you get to the event. So we will always try to help you get there, so you are not out of pocket.

What happens if I don't attend a meeting?

You will need to let us know if you can't come, but if you miss lots of meetings you may be asked to leave the Council.

Who is on The Youth Council?

There will be about 14 young people on The Council. 

Who else will be at The Youth Council meetings?

There will always be at least two members of staff at every meeting. At some meetings we might have other colleagues from The Trust or external guests join us in order to share information, hear our ideas and provide support.