From soil to sand for British Science Week
In celebration of British Science Week, our Forest School gang from Bedford Primary in Liverpool ventured out of the woods and headed to Crosby beach to explore our beautiful coastal habitat.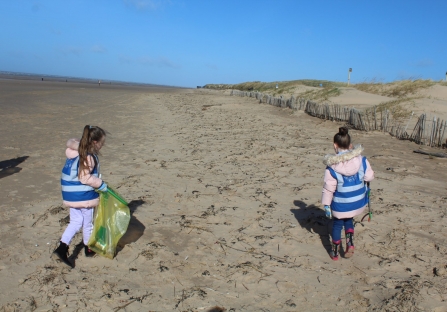 Our Forest School project, supported by players of People's Postcode Lottery, aims to connect urban children and teachers with nature through play and exploration in woodlands. This week though, we had a change of scene when our Forest School gang from Bedford Primary School in Bootle swapped mud and trees for sand and marram grass as they headed to Crosby beach, as part of British Science Week, a ten-day celebration of science, technology, engineering and maths.
Forest School is an opportunity for children to explore their own interests and take part in risky play all while developing a love and respect for nature. Since starting their sessions in February, the children have been discovering more about the natural world; finding out what insects live around us, identifying plants and even carrying out some outdoor maintenance work themselves with loppers and secateurs.
The trip to the beach was a chance for the children to explore a new habitat and to help their local, coastal environment. The class and their teachers braved the windy weather to take part in a beach clean with help from Jayne Foat, lead ranger for Sefton Council, and members from the Friends of Crosby Beach. Unfortunately, there was plenty of litter to pick up, ranging from drink bottles discarded by visitors to cotton wool buds that had been flushed down toilets and made their way into the river Mersey.
As well as helping to clean the beach, the children used their exploration skills, honed by Forest School, to uncover some very exciting natural objects, including shark egg cases, shells, a pair of crow's wings and whelk eggs (commonly nicknamed monkey brains).
After a productive morning collecting rubbish, the class headed indoors to warm up and have a go at making eco-bricks, a novel way of turning non-recyclable plastic into a useful and sturdy 'brick'. Plastic bottles are tightly stuffed with packaging like cling film, crisp packets or cut up yoghurt pots and these bottles can then be used in all sorts of applications – from stools to entire buildings. It was then time to say goodbye to the beach and head back to school for some well-earned lunch.
Marine litter is a problem around the world but we can all do our bit to prevent it. Taking home any rubbish we create while out and about, and disposing of it with our household waste, is a good start and makes a huge difference in all environments, not just marine ones. Cutting down on single-use plastic is even better.
Thanks to the children's hard work, there is now less litter than there was previously on Crosby beach. Had it not been collected, this rubbish would have ended up in the ocean and could have injured, or even killed, marine wildlife.
For more information on actions you can take to help nature, including reducing your plastic use, click here.
For more information about our Forest School project, supported by players of People's Postcode Lottery, click here.