Helping children and adults go wild in Liverpool
After the incredible success of Forest School in Manchester, and thanks to the generous support of People's Postcode Lottery; in 2017, we brought our Forest School project to inner-city Liverpool.
Forest School is a unique opportunity for children to develop teamwork skills, improve confidence and initiate their own learning outside of a classroom. Thanks to players of People's Postcode Lottery, we have been able to deliver free Forest School sessions to a number of educational facilities across Liverpool. Our Forest School leader also trained up to three members of staff from each facility as Level 3 Forest School Leaders, so staff can continue to deliver sessions even after we move on - embedding Forest School into each settings ethos.
The loose structure of the sessions gave us as adults the opportunity to draw the children's attention to all the sensory joys and wonders of the outdoors that often get lost in the busy-ness of daily suburban life and, in the process, to reconnect with the same joy ourselves.

Grandparent helper, Knotty Ash Primary School
In our first year of delivering Forest School sessions and training in Liverpool, we worked with Everton Park Nature Garden and Springfield Park, with the help of partners such as Friends of Everton Park and Alder Hey Children's Hospital.
In 2018 we improved the grounds of schools in Bootle and Netherton, making their outdoor spaces more suitable for Forest School sessions. We also created purpose-built outdoor classrooms in Springfield Park and Everton Park Nature Garden, and worked with schools with dedicated classes for children with Special Educational Needs (SEN) for the first time. Forest School is wonderfully inclusive, and it has been wonderful to see the children of schools like Millstead Special Needs Primary School in Everton embrace these outdoor education session; expressing themselves and growing in confidence.
The children learn better doing things that they enjoy, so at Forest School we're getting loads of interaction and language out of them because they're relaxed and in an environment that they like.

Millstead Special Needs Primary School, Everton
Using Forest School as a form of therapy
In 2019, we branched out from working with schools and developed a new and innovative partnership with Alder Hey Children's Hospital. We piloted a new way of working with the children and young people who access the hospitals Children and Adolescent Mental Health Services (CAMHS), after staff were keen to explore how Forest School could benefit those who may not fit or use traditional therapy models.
Two therapists from the CAMHS team were trained as Forest School Leaders, and together with one of our Forest School Officers, ran a pilot programme with young people from the CAMHS service, using the woods in Springfield Park, right next to the newly built Alder Hey Children's Hospital.
Forest School at Alder Hey is the best thing that could have been available for my 10 year old daughter. My daughter has ASD [Autism Spectrum Disorder] and finds it difficult to make new friends. Since she has attended Forest School her mood has changed, she has made new friends, she has grown in confidence, she has learned so many new skills and absolutely loves it.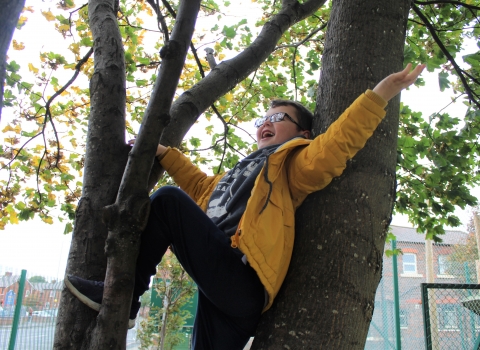 The power of Forest School
"When I go to Forest School I learn new things and play with my new friend and I also have fun by building dens, putting up a tarpaulin and making things.
"The adults in Forest School are very friendly and helpful and always make it lots of fun. I have learned so much in the outdoors and I have learned many skills that I can use in the future. I think Forest School can be for other children too as it will teach them that it's fun in the outdoors and you can make fun things with fun ideas. You can give your creative ideas to anyone and they won't doubt them."
- Forest School Participant (CAMHS).
Supported by players of People's Postcode Lottery

The Lancashire Wildlife Trust has been working with players of People's Postcode Lottery since March 2015 to bring Forest School outdoor education to inner-city school children.
Find out more
For more information about our Forest Schools in Liverpool, please email Katie Dearden, Senior Forest School Officer, at kdearden@lancswt.org.uk.