One of Salford's best green spaces
Whether you are interested in wildlife, geology, industrial history or simply enjoying a nice walk, Clifton Country Park is a wonderful place to visit.
What can you see at Clifton Country Park?
Created when gravel from the River Irwell floodplain was extracted and used for the nearby M60 motorway, Clifton Country Park's lake has become an oasis for waterfowl and waders. Kingfishers, herons and cormorants can be spotted throughout the year, while winter sees the water fill with visiting teal, goldeneye and gadwall. Stroll around the lake during spring and you can even watch the delightful courtship dance of the great-crested grebe.
The history of Clifton Country Park
From the 1700s until the early 20th century the area was used for coal mining, and it was here that the famous engineer, James Brindley, first made his name in the 1750s. Brindley was invited to see if he could devise a way to overcome the sinking of what became known as the Gal Pit and did so ingeniously with the use of a weir on the River Irwell, underground tunnels, an inverted syphon, a leat, a waterwheel and another tunnel. You can still look down into this mineshaft today, though it's worth noting it is now full of water again.
Clifton Country Park didn't just play an important part in Lancashire's industry, but also its culture. The site was a favourite haunt of L.S. Lowry, providing access to the wider valley which he painted and drew throughout his life.
Know before you go
Clifton Country park is managed by Salford Rangers, who run lots of events for the whole family with the support of volunteers. You can even pick up a copy of their fascinating free booklet, 'Exploring Clifton Country Park'.
Click here for more information about Clifton Country Park.
Access: From Clifton House Road, Clifton, M27 6NG.
Accessible: Pathway around the lake accessible for all.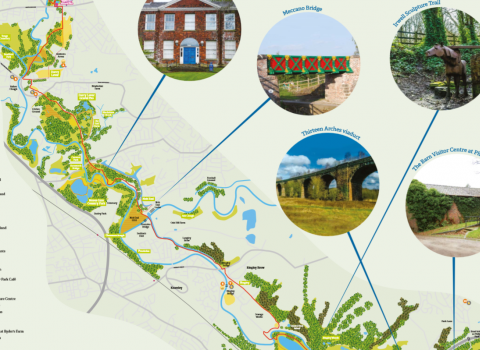 Find out more
Explore more sites along the Kingfisher Trail and plan your trip along this fascinating route.
How you can help
You can help us maintain sites along the Kingfisher Trail for people and wildlife by becoming a member, volunteering or making a donation.
Choose one of the options below and protect the wild spaces on your doorstep.