Manchester, Bolton and Bury Canal
From industrial waterway to wildlife corridor
First navigable in 1797, the Manchester, Bolton and Bury Canal opened the valley up to industry, allowing the transport of goods on an industrial scale. Now, wildlife is thriving and reclaiming the canal for its own.
What can you see on the Manchester, Bolton and Bury Canal?
Now a series of several long ponds, the narrow boats have been replaced by mute swans, kingfishers, and thousands of darting damselflies that make the water shimmer with life. Pike bask just below the surface, and if you look closely you may even spot a colony of freshwater sponge!
Submerged plants species provide the perfect habitat for amphibians, fish and a huge array of invertebrates, including water cricket, horse leech, beetles and colourful dragonflies. Buzzards soar in the sky above, dropping gracefully into the ancient woodland opposite the towpath.
The history of the Manchester, Bolton and Bury Canal
In a previous life the canal was used to carry coal from collieries in Pendleton and Radcliffe. The last colliery at Ladyshore closed in 1949, and the canal closed to traffic as recently as 1961.
Nowadays, much of the canal is owned and managed by the Canal & River Trust in partnership with the Canal Society, which has campaigned and worked towards the canal's restoration since 1987. One of their most notable recent successes saw the installation of the Meccano Bridge, assembled entirely on-site using giant Meccano pieces made locally in Bolton!
Know before you go
Click here for more information about the Manchester, Bolton and Bury Canal.
Access: From Boscow Road, Little Lever, Bolton, BL3 1AB.
Accessible: Not suitable for those with limited mobility.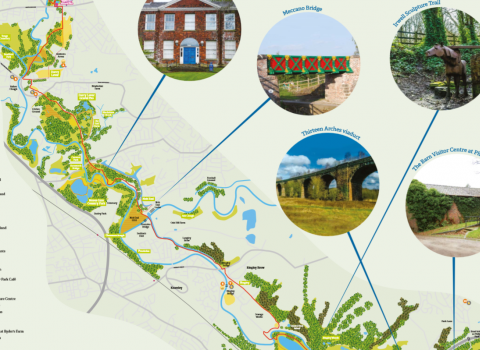 Find out more
Explore more sites along the Kingfisher Trail and plan your trip along this fascinating route.
How you can help
You can help us maintain sites along the Kingfisher Trail for people and wildlife by becoming a member, volunteering or making a donation.
Choose one of the options below and protect the wild spaces on your doorstep.