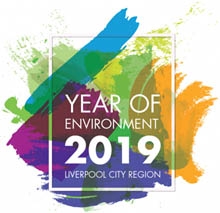 This will be a year of green action across the Liverpool City Region, where people from all backgrounds will have the opportunity to be involved in projects that improve the natural world.
The aim of a number of organisations involved in The Year of the Environment 2019, including The Wildlife Trust for Lancashire, Manchester and North Merseyside, is to leave a better environment for the next generation to inherit and make our area one of the best places in the country to live, work and flourish.
Have you seen wildlife such as hedgehogs, red squirrels, rabbits, sparrows or perhaps something more unusual? If so we would like to know and you could be part of the Liverpool City Region Greenspace Challenge.
As a part of the Year of the Environment, the Greenspace Challenge is being launched to learn more about wildlife across the region. You can register your favourite green space, pledge to visit it and record sightings of wildlife there.
There will also be events across the region throughout the year, advertised at: https://www.facebook.com/yoebiodiversity/ and http://yoegreenspace.eventbrite.com.
Or maybe you would like to register your own event?