Nob End Site of Special Scientific Interest (SSSI)
The jewel in the crown of the Kingfisher Trail
From old mill dumping ground to Special Site of Scientific Interest, Nob End SSSI is now designated as a nationally rare habitat and is a wonderful man-made calcareous grassland right on your doorstep.
What can you see at Nob End SSSI?
More than any other part of the Kingfisher Trail, Nob End sums up the way that nature has reclaimed this once industrial valley.
A former mill site and dumping ground for sulphuric acid and washing soda, the reserve now harbours rare orchids and stunning wildflowers like bee orchid, marsh helleborine, autumn gentian and blue-eyed grass. They grow in alkaline-rich soil created during the weathering of the mill waste, and together with marsh orchids and heath orchids, are unique in Greater Manchester and earned Nob End its SSSI status; the only SSSI created through dumping rather than extraction.
Across the river, Kearsley Woods envelope the site and give the effect of being in a natural amphitheatre. It is never more spectacular than in winter, when dusk heralds the arrival of an impressive and very noisy crow roost.
The history of Nob End SSSI
Local legend holds that an old cotton mill lies buried beneath the waste that makes up most of Nob End's ground material. But if you aren't in the market for legends, there is always Wellfield House, which stands sentinel from the spit of land that earned Nob End its comical name - 'nob' is an old English word for a rounded premonitory.
This stunning spot on the Kingfisher Trail is also the place where the three arms of the Manchester, Bolton and Bury Canal meet. The famous Meccano Bridge at the top of the locks is well worth a visit.
You can find out more about the history and management of Nob End SSSI in this excellent, extensively-researched booklet by Phil Sharples, who has spent many hours helping the Croal-Irwell Valley Ranger Service with the management of this site.
Know before you go
Access: From Boscow Road, via Prestolee Road, Little Lever, Bolton.
Accessible: Not suitable for those with limited mobility.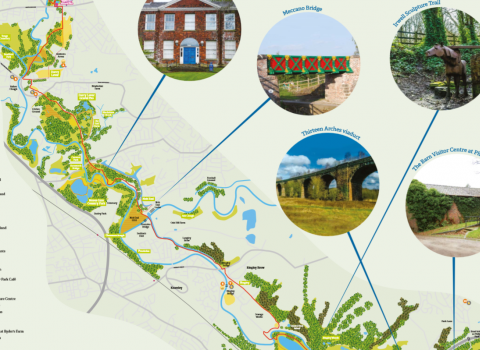 Find out more
Explore more sites along the Kingfisher Trail and plan your trip along this fascinating route.
How you can help
You can help us maintain sites along the Kingfisher Trail for people and wildlife by becoming a member, volunteering or making a donation.
Choose one of the options below and protect the wild spaces on your doorstep.