Leverhulme Park Local Nature Reserve
A wetland wonder in Bolton
It may be better known for its sporting facilities, but Leverhulme Park Local Nature Reserve is also home to an amazing array of wildlife.
What can you see at Leverhulme Park Local Nature Reserve?
Below the sporting pitches echoing with the shouts of people playing cricket, crown green bowling and athletics you'll find a natural haven that supports a range of species.
The confluence of two rivers, Bradshaw Brook and the River Tonge, means that water birds like kingfishers, grey herons, grey wagtails and dippers are commonly seen zipping, bobbing and dipping along the water. Towering beech trees are home to breeding great-spotted woodpeckers and tawny owls, and if you visit during spring, you'll be just in time to immerse yourself in an understory of bluebells and fragrant wild garlic.
The history of Leverhulme Park Local Nature Reserve
Lord Leverhulme donated the park to the people of Bolton during his term in office as Mayor of Bolton in 1919, as the first step towards a pioneering connected green corridor of land. Despite his plans never quite coming to fruition, it is in this spirit that the Kingfisher Trial was created nearly three-quarters of a century later and to which we now attach the term 'living landscape'. For more information about Lord Leverhulme and his links to the Croal-Irwell Valley, download this excellent report by Michael Shippobottom. 
The church is beautiful, as remarked upon by Queen Victoria
As ever, the remains of industry can be spotted on the Kingfisher Trail if you look hard enough. As with many of the sites an old leat, or goyt, once fed a mill with water from the river. After falling into disuse many of these have formed into what are essentially long ponds or wet grasslands. The one in Leverhulme Park supports a wide array of wetland plant species including hemp agrimony, purple loosestrife, yellow loosestrife, marsh marigold and greater spearwort.
Stroll slightly off the Kingfisher Trail to find the stunning St Stephen and All Martyrs' Church. The church is beautiful in its own right (as remarked upon by Queen Victoria), but it becomes even more so when you realise that it is made of terracotta and is one of only three examples to be found in England. The clay used in its construction travelled along the Kingfisher Trail from the Fletcher family's mine at Ladyshore in Little Lever.
The church may be on the opposite side of the river from the Kingfisher Trail, but it can be reached by a bridge or by simply turning up Radcliffe Road and really shouldn't be missed! Check ahead to see if it is open to avoid disappointment.
Know before you go
Access: Leverhulme Park Car Park, off Long Lane, Bolton.
Accessible: Riverside paths accessible although with steep gradient.
Leverhulme Park is owned by Bolton Council.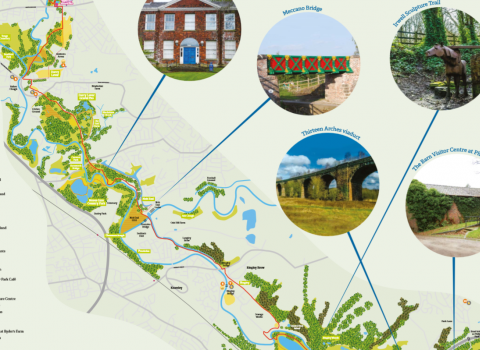 Find out more
Explore more sites along the Kingfisher Trail and plan your trip along this fascinating route.
How you can help
You can help us maintain sites along the Kingfisher Trail for people and wildlife by becoming a member, volunteering or making a donation.
Choose one of the options below and protect the wild spaces on your doorstep.