Bolton's largest nature reserve
At 750 acres this is Bolton's largest nature reserve. Home to mill lodges, woodland and plenty of heritage, wildlife meets industry in a peaceful site where there is always something to see.
What can you see at Moses Gate Country Park?
During the 19th century Moses Gate was home to Farnworth Paper Mills, and under Thomas Bonsor Crompton, it became one of the biggest paper producers in the whole country. At this time the river was so dirty from heavy industry that the water couldn't be used for paper making and, as a result, 'Crompton's Lodges' were built. Nowadays these lodges support a wide range of waterfowl including mute swan, tufted duck, great-crested grebe and even water rail, while common terns perform acrobatics above the water during summer.
Time your visit right and you might witness herons catching brown trout as they leap from the weir, and don't forget to keep your eyes peeled for the jewel-like kingfisher - the perfect representative of the revival of the valley from industrial dereliction to wildlife haven.
The history of Moses Gate Country Park
The influence of the industrial revolution can still be seen in the huge 'blue wall' that holds up the canal on the east side of the river, as well as in the woodland. Just 40 - 50 years old, the trees are a reminder that it isn't long since Moses Gate Country Park was an unpleasant mish-mash of coal mines, sewage works, bleach works, paper mills and even a landfill.
But the history of this reserve doesn't stop at the industrial revolution. Red sandstone rock outcrops are interesting remnants of the last ice age.
Know before you go
Access: Moses Gate Country Park Car Park, off Hall Lane, Bolton.
Accessible: Pathways around lodges accessible for all.
Moses Gate Country Park is owned by Bolton Council.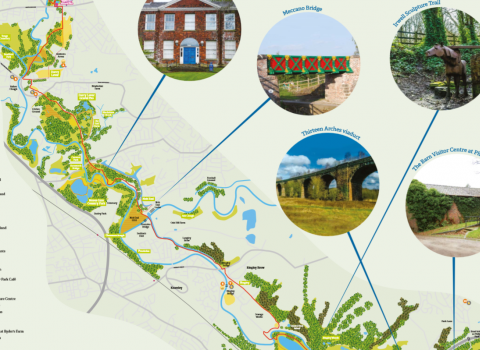 Find out more
Explore more sites along the Kingfisher Trail and plan your trip along this fascinating route.
How you can help
You can help us maintain sites along the Kingfisher Trail for people and wildlife by becoming a member, volunteering or making a donation.
Choose one of the options below and protect the wild spaces on your doorstep.