Lose yourself amongst ancient trees
The picturesque little village of Ringley sits alongside the River Irwell, nestled in the shadow of a steep wooded valley where birds of prey swoop silently between the trees.
What can you see in Ringley Woods?
Despite the encroachment of industry, much of Ringley Woods is classed as ancient and home to all the wildlife you would expect to find in an ancient woodland.
Lose yourself amongst towering trees including English oak, ash, birch, alder, elm, beech, willow, sycamore, hawthorn, rowan, holly and hazel. Watch treecreepers and nuthatches scampering up the tree trunks, and great-spotted woodpeckers flitting from branch to branch. Buzzards, sparrowhawks and tawny owls can also be seen, so keep your eyes peeled and your ears pricked!
Don't miss a spring visit to Ringley Woods, when they are resplendent with a cascade of bluebells and the fragrance of wild garlic hangs in the air. 
The history of Ringley Woods
Remnants of Ringley Woods' history can be seen all around. Ringley Bridge spans the River Irwell and is designated as an ancient monument, having provided a crossing since 1677. A pair of stocks stands beside the bridge.
St Saviour's church holds monuments to the influential Fletcher family, whilst in its grounds an old clock tower is the only reminder of an earlier church building. A plaque on the tower quaintly reads 'Nathan Walworth builded mee ad 1625'. This church was once rebuilt by Charles Barry (of Houses of Parliament fame) but lasted less than thirty years before being demolished and replaced by the current building.
Treecreepers and nuthatches scamper up tree trunks in the peaceful woodland
As with many Kingfisher Trail sites, Ringley Woods has its roots in industry. Until the 1980s this tranquil spot was dominated by the smokestacks and cooling towers of Kearsley Power Station (including the tallest cooling tower in the world). It was also once skirted by a mile-long chain tramway connecting the Manchester, Bolton and Bury Canal with Outwood Colliery. It carried coal down the hill, where it would then be dropped directly through a trapdoor in a bridge onto waiting canal boats below.
The Manchester to Bury railway line also ran through the woodland at one time and is now the excellent national cycle route 6.
Know before you go
Access: From behind Horseshoe Pub, Ringley, M26 1FT.
Accessible: Ringley Bridge, stocks and Saint Saviours all accessible. Kingfisher Trail path not suitable for those with limited mobility.
Ringley Woods sits partly within Bolton, partly within Bury and is partly privately owned. More information can be found by contacting the local authorities' Rights of Way Officers.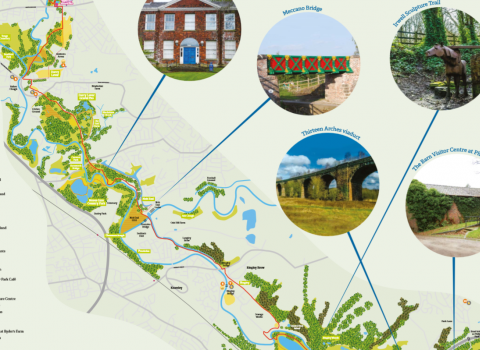 Find out more
Explore more sites along the Kingfisher Trail and plan your trip along this fascinating route.
How you can help
You can help us maintain sites along the Kingfisher Trail for people and wildlife by becoming a member, volunteering or making a donation.
Choose one of the options below and protect the wild spaces on your doorstep.