Seven Acres Local Nature Reserve
Where history meets heathland
The name of this 79-acre site reflects the importance of water to past industry, when the area covered by the various lodges, ponds and brook added up to exactly 'seven acres'. This industry mainly consisted of two bleach works, but prior to this the site hosted a medieval corn mill powered by a waterwheel. The remnants of Toothill Bridge Bleach Works can still be seen at the southern end of the site.
What can you see at Seven Acres Local Nature Reserve?
Despite its industrial past Seven Acres Local Nature Reserve is now home to everything that makes the Kingfisher Trail special: wildflower meadows, heathland, woodland and lots of wetland areas. We don't know of anywhere else in Greater Manchester where such an abundance of different habitat types are squeezed into the same area. 
With more than 100 species of bird recorded on-site, a visit to Seven Acres will reward you at any time of the year, though personally, our favourite season is the height of summer when the reserve is in full bloom! Swathes of purple devil's-bit scabious cover the grasslands, with carpets of yellow tormentil flowering underneath. Mixed in with these you can see knapweed, yellow-rattle, meadowsweet, red campion, speedwells, golden-saxifrage and lots of other beautiful wildflowers. These grasslands support 24 species of butterfly, so if you visit on a nice day make sure you bring your camera!
The history of Seven Acres Local Nature Reserve
Believe it or not, past industry is reflected in the more natural areas of the site, with a large sycamore woodland being planted and managed for the bleach works. They used the timber from the tree because the sap from the wood does not stain and has no odour (it is still used for kitchen chopping blocks for the same reason). The last time the sycamore was managed in this way was in the 1930s when the industry went into decline.
Our favourite season is the height of summer when Seven Acres is in full bloom
Sycamore doesn't support a great diversity of species and is a regular topic of debate for us in managing Seven Acres – do we try to replace the trees with native species, which support a greater range of wildlife, or do we keep it as a living historical artefact?
The sycamore isn't the only living remnant of the past. Breightmet Hall once stood on the east of the site, bounded by a living hedgerow that has been growing there continuously since at least 1764!
Know before you go
Lancashire Wildlife Trust manages Seven Acres and runs a weekly volunteer group called the Seven Acres Squad who meet every Friday between 10am and 3pm. If you would like to get involved please phone 01204 663754, or email bolton@lancswt.org.uk.
The Friends of Seven Acres are a long established community group who are very active and lead monthly themed walks on the site, deliver talks, carry out wildlife surveys and support the management of the site. Much of the historical information listed above is from a booklet produced by one of their members, Sara Vernon (thanks Sara!). For more information about their events, the latest wildlife sightings and Seven Acres' history (including Sara's booklet), click here. 
Access: Seven Acres LNR Car Park off Thicketford Road, Bolton, BL2 2NA.
Accessible: Riverside paths accessible with radar key.
Seven Acres Local Nature Reserve is owned by Bolton Council.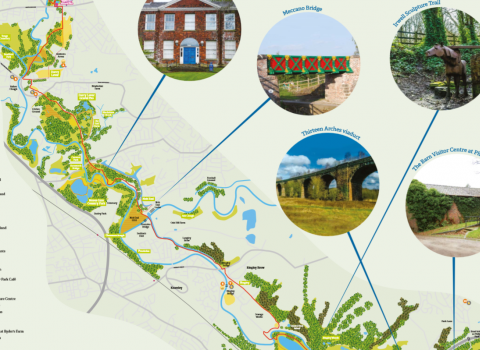 Find out more
Explore more sites along the Kingfisher Trail and plan your trip along this fascinating route.
How you can help
You can help us maintain sites along the Kingfisher Trail for people and wildlife by becoming a member, volunteering or making a donation.
Choose one of the options below and protect the wild spaces on your doorstep.