Waterdale and Drinkwater Park
The realm of the kingfisher
Though now disused, the monolithic 13-arch railway viaduct that dominates this part of the Kingfisher Trail is a reminder of the area's former life as a thriving industrial hub. Now, Waterdale and Drinkwater Park is one of Bury's best greenspaces.
What can you see at Waterdale and Drinkwater Park?
This is one of the best places on the Kingfisher Trail to see kingfishers, which hunt at Damshead Lodge: once part of a series of reservoirs which fed Waterdale Bleach and Dye works (famous for producing the colour Turkey Red). Kestrels, sparrowhawks, buzzards and even peregrine falcons can be seen along the impressive 13 Arches Viaduct.
Now owned and managed by the Forestry Commission, major work has been carried out to stop heavy metals from leaching out of contaminated ground at Waterdale and Drinkwater Park. Thousands of tons of soil have been imported to create a stunning wildflower meadow, while a mixture of deciduous trees were planted. Many of these are managed traditionally by local coppice workers to produce sustainable products. 
The history of Waterdale and Drinkwater Park
Damshead Lodge was dug by hand in the 1780s and features 50-foot deep overflow drain which looks like a submerged mill chimney. The bleachworks were located on the land below the reservoir and stood there until being demolished as part of major landscaping works in the 1970s. This area also once featured the monumental cooling towers of Agecroft Power station and the deep lagoons of Rhodes Farm Sewage Works. 
The site has long been important as a navigational route. Bradley Ford once provided a pack horse route across the river, before the opening of Clifton Aqueduct allowed the Manchester, Bolton and Bury Canal to cross here. Less than 50 years later the Manchester to Bury railway line largely superseded the canal and the area had a new icon in the 13 Arches Viaduct. Rather than trains this is now home to regular sightings of the magnificent birds of prey mentioned above.
Know before you go
Find out more about Waterdale and Drinkwater Park here, on the Forestry Commission website before you plan your visit.
Access: Park Lane, Whitefield, M45 7QJ, or at the bottom of Buckley Lane, Prestwich, M45 7JZ.
Accessible: Reaching the site from Philips Park involves a long descent into the steep-sided valley. Access from Buckley Lane is along mostly flat, excellent quality paths.
Waterdale and Drinkwater Park is owned by Forestry England.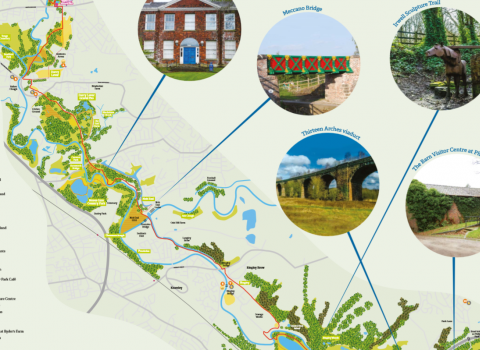 Find out more
Explore more sites along the Kingfisher Trail and plan your trip along this fascinating route.
How you can help
You can help us maintain sites along the Kingfisher Trail for people and wildlife by becoming a member, volunteering or making a donation.
Choose one of the options below and protect the wild spaces on your doorstep.