South Pennines Grasslands Project
The South Pennines Grasslands Project aims to restore, improve and create species-rich grassland on the West Pennine moors.
Species-rich grassland contains a high diversity of plant and grass species and includes hay meadows, unimproved pasture and acid grassland, but it has been estimated that 97% of species-rich grassland in the UK has been lost since 1945. 
The scale of the loss and fragmentation of species-rich grassland has proven unsustainable for a number of species supported by this habitat:
• 2 bumblebee species have become extinct in the UK during the 20th Century.
• 6 bumblebee species are BAP (Biodiversity Action Plan) listed as priority species for conservation action.
• Specialist grassland butterflies such as large skipper, common blue, small copper and meadow brown have become highly localised due to a drastic decline in the availability of the wildflowers utilised by their larvae as food plants.
• Bird species such as the twite that rely on hay meadows to feed their young, and skylarks that nest in dense vegetation of hay meadows have declined in numbers.
• 1 in 5 native wildflower species is currently threatened by extinction.
The ecosystems associated with species-rich grasslands also provide vital ecological services for humanity, such as pollination and natural pest control for agricultural crops.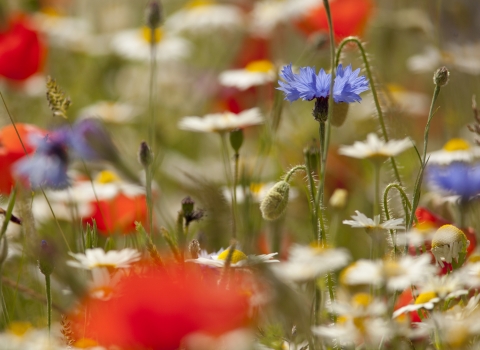 What happened to our meadows?
The advent of industrialised agriculture during the mid-20th century dramatically boosted the productivity of farmland across the UK. The cost of high yield, intensive agriculture has been the widespread loss of wildlife and wildflower-rich habitats historically associated with traditionally managed farmland.
Species-rich grassland, and the biodiversity it supports, represents perhaps the greatest ecological casualty of intensive agricultural practices. 
Unimproved hay meadow is classified as species rich grassland which has traditionally been managed under a low nutrient regime. Classically a hay cut is taken in late summer and/or low intensity grazing applied. 
Rich floral communities evolve under traditional grassland management. By contrast, agriculturally improved grassland has sacrificed wildflower communities (through ploughing, re-seeding, and soil nutrient enrichment) in favour of lush grass growth to support silage production or intensive grazing.
Unimproved grasslands continue to be viewed as unproductive under conventional agricultural expectations. The major threats which continue to face unimproved species rich meadows include agricultural intensification, changes in land use, neglect (leading to coarse grass, scrub, and woodland succession), and floristic impoverishment through inappropriate management (e.g. overstocking or frequent cutting).
Wildflower meadows are vital habitats for birds, butterflies, bees and other wildlife. It is crucial that action is taken to restore these endangered habitats and create new species-rich grasslands.
What we are hoping to achieve
1. To restore, improve and bring into positive management 200ha of species-rich grassland.
We will be working with landowners to bring grasslands into positive management by providing advice, support and funding capital works on the ground. Typical practical works to restore grasslands include:
Restoration cuts
Scrub control/removal
Species diversification by scarifying and seeding
Field boundary installation/restoration
Providing livestock-handling infrastructure
Access improvements to enable or facilitate management
2. We aim to create 50ha of species-rich grassland adjacent to existing sites or lying within the grassland network. We will create new areas of species-rich grassland:
In adjacent fields
In sites within a grassland corridor and/or on sites that will function as stepping stones between existing grasslands
Using green hay from the Local Wildlife Sites where possible, otherwise using a suitable wildflower seed mix
3. To raise awareness of the presence and importance of species-rich grassland in the Southern Pennines by:
Promoting a programme of events linked to the delivery of works on the ground
Collection of evidence to demonstrate the impact of the works and enhancement of the grassland network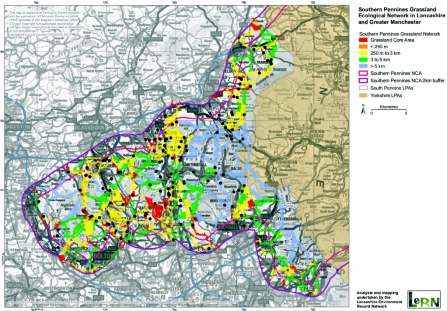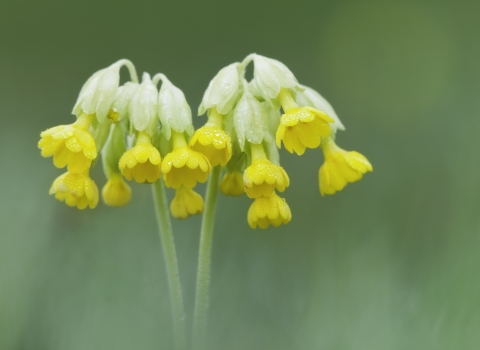 Ways you can help
Do you own land...
On a Biological heritage site/local wildlife site/site of biological interest?
That contains large numbers of wildflower species?
Within the project area that would be suitable for the creation of a species-rich meadow? 
Find out about the wildlife benefits of uncut grasslands
You can also ask your local council to create wildflower meadows in your local park.
Nearly all council parkland and green space is mown every two weeks throughout the summer months. Not all this grassland is used for sports and picnics and these unused areas could be left uncut and the grass removed at the end of the summer. This change in the mowing regime can have big effects on the numbers of grass and wildflower species and also the numbers of birds, bees and butterflies.
Also, why not create a wildflower meadow at home? If you have a large area of lawn, you could turn part of it into a wildflower meadow.
Finally, you could visit a wildflower meadow near you and spread the word about these beautiful and vulnerable places.
We are also looking for people to volunteer with the South Pennines Grasslands Project. If you have good identification skills or want to learn how to identify wildflowers then we'd love to hear from you. We also need help with practical work on sites over the winter months.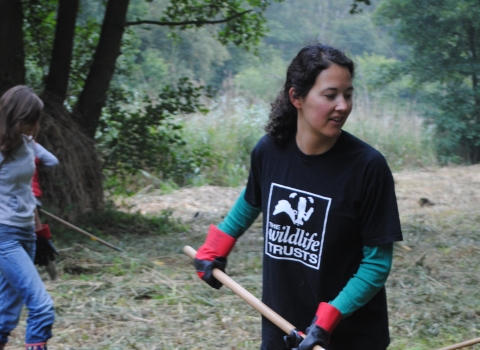 Volunteer
We are looking for people to volunteer with the South Pennines Grasslands Project. If you have good identification skills or are looking to learn how to identify wildflowers then we'd love to hear from you. We also need help with practical work on sites, so if you'd like more information about volunteering with this project, please contact Catherine Haddon, Volunteer Co-ordinator at volunteer@lancswt.org.uk, or ring 01772 318374.
Contact Us
For more information on this project please contact the Project Officer, John Lamb.
T: 01772 317240
E: jlamb@lancswt.org.uk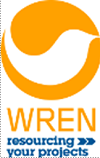 Funders & Partners
The South Pennines Grassland Project is funded by WREN.
Partners in the project include:
Natural England, South Pennines Local Nature Partnership, Pennine Prospects, LERN, GMEU, Lancashire County Council, Borough Councils in the Lancashire and Greater Manchester South Pennines NCA.