Philips Park Local Nature Reserve
A playground for birders and budding botanists
Set within the wider 494 acre Prestwich Forest Park, the stunning remnants of industry are still visible against a backdrop of wildflower meadows and plantation woodland at Philips Park Local Nature Reserve.
What can you see at Philips Park Local Nature Reserve? 
There is always something to see at Philips Park. Botanists and bug hunters won't want to miss the flower-rich grassland during spring and summer, when it erupts with clouds of fluttering butterflies including orange tip, brimstone and peacock. 
Seeking out special species of bird? Stroll deep into the wilder areas of woodland via the 'Tree Trail', where nuthatches, treecreepers, buzzards, sparrowhawks and great-spotted woodpeckers live amongst towering beech, hornbeam and yew trees. Visitors with an adventurous streak can even wildlife-watch from four fantastic mountain bike trails.
The history of Philips Park Local Nature Reserve
Philips Park was once a playground for the rich. A former medieval deer park, traces of this history can still be found in a mound running next to Bradley Brook alongside which the fence (known as a pale) once stood. The mound meant that the land was higher on one side of the fence and allowed deer to enter the park, but not make their way back out. Later, the land was parcelled up and used for agriculture until Robert Philips, a local wealthy industrialist, bought the land for his new house which was built in the early 19th century.
Sparrowhawks live amongst towering beech, hornbeam and yew trees
Unfortunately, all that remains of the house now are the outbuildings. Many people have fond memories of the notorious nightclub which occupied the stables until the mid-2000s, where people would party until 3am. Following the demolition of the main house the site was managed as a public park and had wonderful formal gardens, including a conservatory full of orchids and exotic species. Today, the gardens aren't quite as resplendent, but they have a fantastical 'secret garden' character and are a wonderful place to explore as a family or to lose yourself in an adventure!
Know before you go
The Friends of Prestwich Forest Park manage the site alongside Bury Council, holding regular events and practical task days. Click here to find out more about them and stay up to date with their news and events.
Access: Park Lane, Whitefield, M45 7QJ.
Accessible: The main paths at Philips Park are of a high quality, but please be aware that the site is on a steep sided valley and many of the paths are difficult to negotiate for those with limited mobility.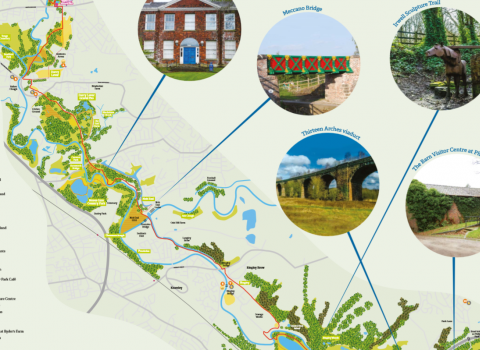 Find out more
Explore more sites along the Kingfisher Trail and plan your trip along this fascinating route.
How you can help
You can help us maintain sites along the Kingfisher Trail for people and wildlife by becoming a member, volunteering or making a donation.
Choose one of the options below and protect the wild spaces on your doorstep.