Living Seas North West
The Irish Sea has the potential to be one of the most productive and wildlife rich places on earth.
Hidden beneath the surface of the Irish Sea are landscapes every bit as varied as those we see on land, with undersea cliffs, caves, valleys and mountains which are home to thousands of plants and animals from tiny anemones to the majestic basking shark.
For centuries our seas riches have been taken for granted. Fragile habitats have been destroyed. Pollution, inappropriate fishing gear and the effects of climate change have had major detrimental impacts on our marine environment.
Last year we launched 'Our Irish Sea', a three year project to engage local people with the marine environment and raise awareness about the diversity of marine life in the Irish Sea and along the coast.
As part of the project, we have been collecting information on current public perception of the marine environment in the North West of England. This has inspired us to create lots of exciting events and activities to uncover some of the mysteries of the Irish Sea whilst inspiring new generations to get involved in protecting our fascinating marine wildlife.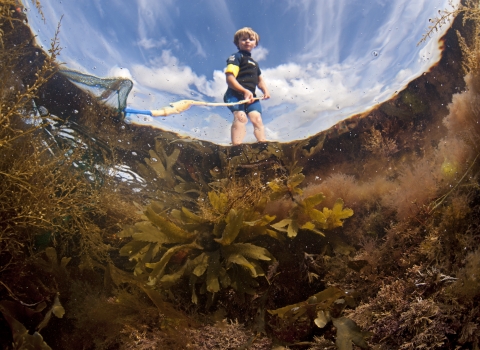 Recovery
The Wildlife Trusts Living Seas vision is that wildlife thrives, from the depths of the ocean to the coastal shallows.
Our seas have a remarkable capacity to recover, but only if we give them the chance. The Wildlife Trusts have helped to secure the Marine and Coastal Access Act, which is great news.
Our vision
Increase marine awareness. We have amazing wildlife in the Irish Sea, so let's shout about it!
Project the Irish Sea. We can help it recover through the designation of Marine Conservation Zones where wildlife can thrive.
Engage the people of the North West. Let's delve deeper and find out more. Together we can protect the Irish Sea for the future.