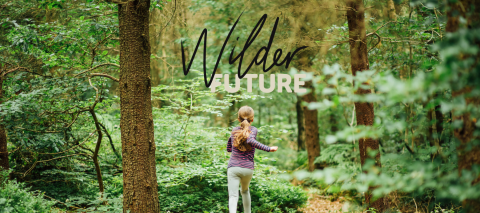 66 % of barn owls have vanished since the 1930s
95 % of basking sharks lost from UK waters
90 % of common frogs vanished since the 1980s
2 % of Lancashire's mosslands now remain
Nature needs us
Our natural world is in critical condition. Wildlife is being wiped out, wild space is disappearing and our natural support systems are being destroyed, with devastating consequences.
The UK has become one of the most nature-depleted countries on the planet. But we can turn this around.
We want to see at least 30% of our land and seas recovering by 2030, but we can't do it alone. You can be part of this Wilder Future,
What nature needs to recover
Wildlife needs space - it needs thriving wild places that aren't only protected, but are restored and reconnected. Wildlife needs to be included, not alienated, in planning and political decisions, with strong legislation on its side. Wildlife needs us all to play our part in making sure that nature stays at the top of the political agenda.
How we're helping nature recover
Our vision is for a wilder Lancashire, Manchester and North Merseyside, where more people have a deep and meaningful connection with the nature on their doorstep. Here are just some of the ways we're making it happen.
How you can help nature recover
From taking action for insects in your home and garden to writing to your MP about the state of nature, here are some ways you can be part of a Wilder Future.
Where the Wilder Future campaign started