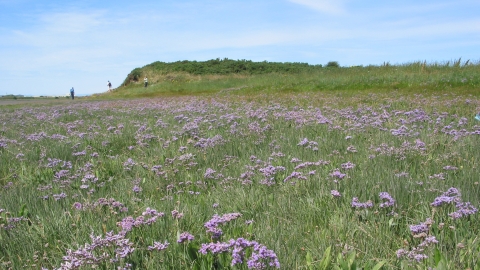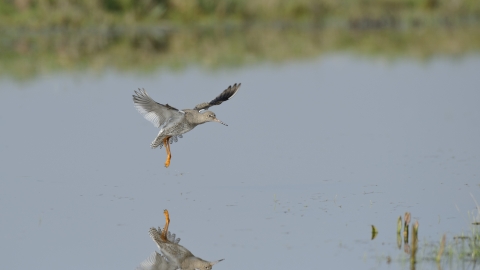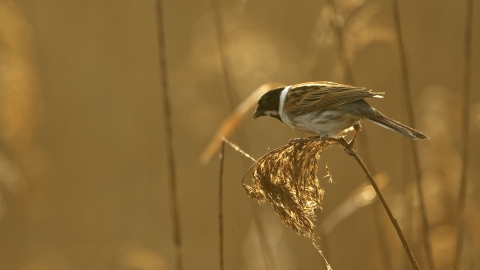 Barnaby's Sands and Burrows Marsh
Explore a true hidden gem where lapwings soar and redshanks probe the mud.

Location
Know before you go
Parking information
Free car park in Knott End.
Walking trails
You can visit the reserves at any time of year. Please keep to the footpath as the saltmarshes and soft mud can be dangerous.
Access
You can park at the free car park in Knott End and walk south on the public footpath. Alternatively, there is limited parking space on the minor roads near the reserve at the owner's risk.
When to visit
Opening times
Open at all times.
Best time to visit
Winter
About the reserve
Sitting on the stunning Lancashire coast, Barnaby's Sands and Burrows Marsh is one of the last extensive areas of ungrazed saltmarsh in the county. The best part? Most people don't even know it is there.
This undiscovered paradise for wintering waders and wildfowl is heaven for both seasoned birdwatchers and keen wildlife-lovers. Regionally important mudflats and marshes brim with redshank, knot, snipe and common sandpiper as they probe the mud for insects and molluscs. Wigeon, pink-footed geese and red-breasted merganser visit to take advantage of the spoils, while peregrines are often seen patrolling the skies during winter. Skylark and reed bunting regularly breed on the saltmarsh, while lapwings reel across the sky and fill the air with distinctive 'purr-weet' calls.
But birds aren't the only stars of the show. As you stroll along the footpath that spans vast swathes of shingle, saltmarsh and cordgrass you can marvel at countless species of coastal wildflower. Sea purslane and sea blite accompany bright purple bunches of beautiful sea lavender, as well as lax-flowered sea lavender and the striking lilac flowers of the sea aster plant.
Barnany's Sands and Burrows Marsh is the perfect spot for a bracing coastal walk, so why not venture a little further along to Arm Hill? Here, acid grassland and bushes of coconut-scented gorse support rare plants like rock sea lavender and sea wormwood.
Habitat
Environmental designation
Site of Special Scientific Interest (SSSI)