Over the past 150 years, over 80% of the sand dunes in Lancashire have been lost
The Fylde Sand Dunes Project is a partnership between The Wildlife Trust for Lancashire, Manchester and North Merseyside, Fylde Council and Blackpool Council, currently exclusively funded by The Environment Agency until 2022. This project works hard to encourage visitors to the dunes in a way which does not further threaten their existence, whilst letting people know about all the important wildlife present.
We are also working to improve the dunes as a sea defence feature, through increasing their width by encouraging natural dune growth on the foreshore. The dunes act as a natural barrier to the sea at high tide, and release sand during storm conditions to reduce wave action. 
With the help of volunteers and the local community, the Dunes Project aims to make the dunes a better place for both wildlife and people.
Habitats and Wildife

The range of conditions in a sand dune habitat supports a surprisingly rich variety of plants and wildlife that are well adapted to their environment.

There are over 280 vascular plant species recorded on the Fylde sand dunes, including several internationally rare plants which are endemic to sand dunes in the UK, including the interestingly named Isle of Man cabbage.

Insects are numerous and varied in the dunes, with over 150 species of butterflies and moths recorded. The Fylde dunes are also home to breeding birds including stonechats, skylarks and reed buntings. 
Practical Conservation

The project carries out regular practical conservation methods on the dunes which includes:

Controlling invasive non-native species
Repairing the dunes by thatching and filling blow-outs to reduce sand loss from the system
Developing pathways to create recognisable access points and reduce dune erosion
Creating dune slacks to encourage a greater diversity of wildlife
Planting dune grasses and using chestnut paling and other natural materials to trap wind-blown sand and create new dunes on the foreshore
Community Engagement and Education

We want to encourage both visitors and residents to feel a sense of ownership of their local coastline. The project offers an outreach programme delivering public engagement and education in the form of:

Talks and presentations 
Helping students to achieve the conservation aspect of the John Muir Award
Delivering a wide range of coastal events including: beached art competitions, mini-beast hunting, mud dipping, beach bonanzas, sand dune safari's and many more! 
Guided walks
Beach School

For more information on our outreach programme please get in touch via email.
Christmas Tree Planting

Each new year, we use old Christmas trees to provide a defence against sand and sea for residents of Lytham and St Anne's. The Christmas trees play a vital role as the branches and pines from the trees stick out of the beach and trap sand particles as they drift ashore, helping sand to accumulate and eventually build new dunes.

The trees are donated to drop off points along the Fylde coast and are then used to create sand dunes on the foreshore of the local beaches. The annual Christmas tree planting event occurs every year, and is usually a 3 day event taking place at the beginning of February.

Watch this video below about our tree planting event in 2017, published by That's Lancashire.

That's Lancashire, 8th Feb 2017.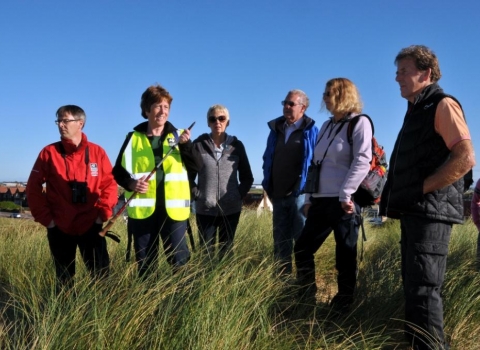 Get Involved
We hold regular volunteer work parties tackling everything from scrub removal to litter picks - there's something for everyone to get involved with!
We also run occassional guided walks around the Fylde Sand Dunes. FREE upcoming walks at Lytham St Anne's Local Nature Reserve are being held on:
Saturday 16th June 2018   
Sunday 1st July 2018
Sunday 22nd July 2018
Sunday 5th August 2018
Saturday 25th August 2018
Saturday 15th September 2018        
Sunday 7th October 2018     
Saturday 27th October 2018
Saturday 17th November 2018
Sunday 9th December 2018
Contact Us
For information on volunteering with this project, just contact:
Catherine Haddon
T: 01772 318 374
E: chaddon@lancswt.org.uk